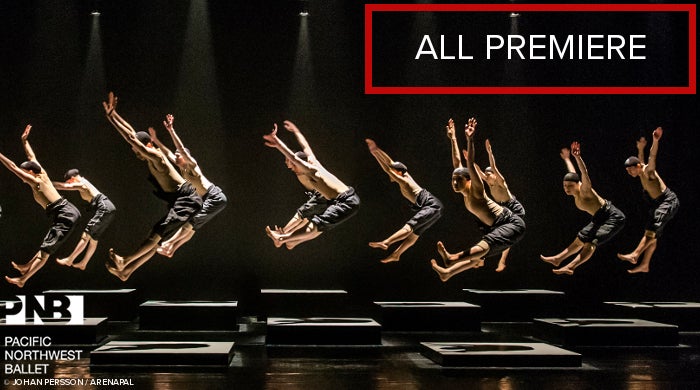 All Premiere
Presented by Pacific Northwest Ballet
Event Details
Nov

2 - 11

, 2018

Lobby - 2 hours prior to show time

$30 - $189

PNB's Box Office:
206-441-2424

Purchase tickets as part of a season subscription here.

The garage with the shortest wait times for pre and post event parking is the 5th Avenue North Garage. Located on 5th Avenue N, with entrances on Republican Street and Harrison Street, this garage requires a short walk to McCaw Hall.

Parking is also available at the Mercer Street Garage, conveniently located across the street from McCaw Hall. Entrances to the Garage are on 4th Avenue N and 3rd Avenue N.

Call 206-615-0404 to make your reservation at Prelude.

Concessions: We are working on new and exciting changes in our concessions offerings throughout McCaw Hall. You can still skip the lines and pre-order for the intermission at any one of the concession locations. We hope you will come and experience the changes yourself!

Menu downloads:
Prelude Dinner Menu
Prelude Brunch Menu
THE FIRST OF THREE MIXED-REPERTORY PROGRAMS brings new works from choreographers the world is watching. PNB audiences know Alejandro Cerrudo (Little mortal jump) for his inventive synthesis of mood and music. Alexander Ekman's Cacti has become an international hit: a kinetic, concussive ensemble work that's slyly ironic. PNB soloist Kyle Davis has been creating work for years, and we are thrilled to bring his premiere to the mainstage.
PRODUCTION INFORMATION
A Dark and Lonely Space (World Premiere)
Music: Michael Giacchino
Choreography: Kyle Davis
Scenic & Lighting Design: Reed Nakayama
Costume Design: Elizabeth Murphy

Silent Ghost (PNB Premiere)
Music: Dustin Hamman, King Creosote & Jon Hopkins, Ólafur Arnalds, Nils Frahm
Choreography: Alejandro Cerrudo
Costume Design: Branimira Ivanova
Lighting Design: Michael Korsch
Cacti (PNB Premiere)
Music: Franz Josef Haydn, Ludwig van Beethoven, Franz Schubert
Choreography: Alexander Ekman
Scenic & Costume Design: Alexander Ekman
Lighting Design: Tom Visser
Netherlands Dance Theatre 2 in Alexander Ekman's Cacti. Pacific Northwest Ballet will be performing Cacti as part of ALL PREMIERE. Photo © Johan Persson / ArenaPAL.
---
Event Details
Nov 2 - 11, 2018
Lobby - 2 hours prior to show time

$30 - $189

PNB's Box Office:
206-441-2424

Purchase tickets as part of a season subscription here.

The garage with the shortest wait times for pre and post event parking is the 5th Avenue North Garage. Located on 5th Avenue N, with entrances on Republican Street and Harrison Street, this garage requires a short walk to McCaw Hall.

Parking is also available at the Mercer Street Garage, conveniently located across the street from McCaw Hall. Entrances to the Garage are on 4th Avenue N and 3rd Avenue N.

Call 206-615-0404 to make your reservation at Prelude.

Concessions: We are working on new and exciting changes in our concessions offerings throughout McCaw Hall. You can still skip the lines and pre-order for the intermission at any one of the concession locations. We hope you will come and experience the changes yourself!

Menu downloads:
Prelude Dinner Menu
Prelude Brunch Menu