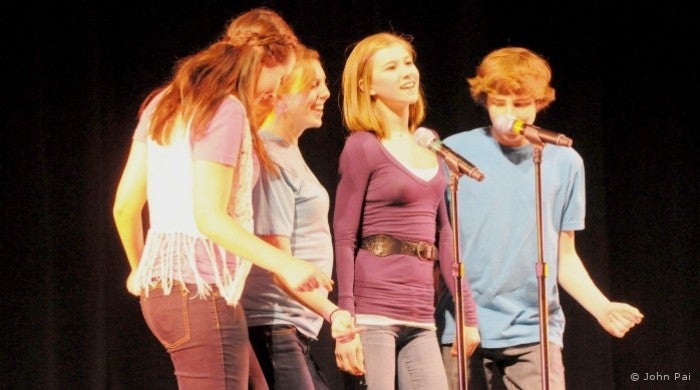 Children's Concert
Free Matinee Concert
Presented by Seattle Men's Chorus & Seattle Women's Chorus
The Children's Concert is an opportunity for audience members to bring children of all ages to enjoy an afternoon of musical and theatrical entertainment in a world-class performance hall; opening their eyes and ears to the wonder of live entertainment!
The Seattle Men's Chorus and Seattle Women's Chorus are pleased to once again welcome some of the talented young performers from Village Theatre's KIDSTAGE. Additionally, this year we are delighted to welcome back Book-It Repertory Theatre, who will perform And Tango Makes Three from their "Danger: Books!" education series.
Music and theatrical pieces will be appropriate for toddlers all the way up to teenagers. Kids will have an opportunity to sing along and join in the fun and excitement. There will be something for everyone. There's nothing like the wonder and amazement shining in the eyes of children as they experience big song, big characters, and big fun on a big stage. Please join us, won't you?
Free Workshops
This year, we are once again pleased to offer the added benefit of FREE hands-on workshops — taught by Village Theatre KIDSTAGE instructors. Each workshop is 30 minutes long and tailored for kids K-5.
Reservations Required:
Call 206.388.1400 to reserve a spot in one of the workshops
Creative Play:
Grades K-2
Your kids will jump into the world of creative play, and go on a journey through theatre games to a magical place.
Norcliffe Room, Upper Lobby at McCaw Hall
1:00 - 1:30 PM or 1:30 - 2:00 PM
Ensemble Play: Grades 3-5
Let your kids become part of an ensemble and explore theatre games as a springboard into their imagination.
Allen Room, Upper Lobby at McCaw Hall
1:00 - 1:30 PM or 1:30 - 2:00 PM
For information on all of Village Theatre's KIDSTAGE programs, please visit www.villagetheatre.org
---