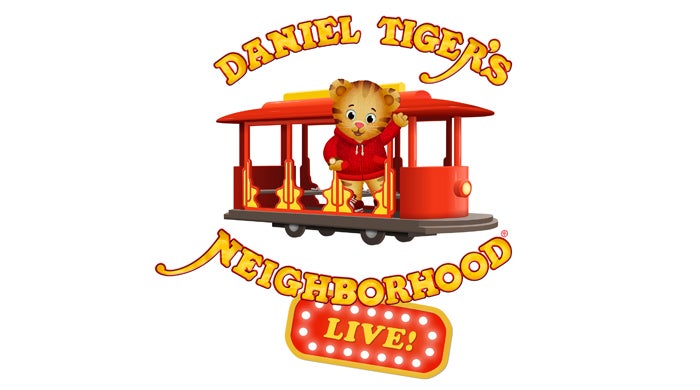 Daniel Tiger's Neighborhood LIVE!
Daniel Tiger's Neighborhood LIVE!
Event Details
Nov

9

, 2016

Building: 1:30pm; auditorium: 2:30pm for 3pm show & 6pm for 6:30pm show

$18.50 - $47.00

Tickets can be purchased at the Box Office located on the west plaza of KeyArena at Seattle Center, Ticketmaster.com, or charge by phone toll free at (800) 745-3000, TDD (800) 943-4327. All tickets subject to applicable service charges and fees.

The McCaw Hall box office opens 1.5 hours prior to the show start and located in the Kreielsheimer Promenade Lobby.

The garage with the shortest wait times for pre and post event parking is the 5th Avenue North Garage. Located on 5th Avenue N, with entrances on Republican Street and Harrison Street, this garage requires a short walk to McCaw Hall.

Parking is also available at the Mercer Street Garage, conveniently located across the street from McCaw Hall. Entrances to the Garage are on 4th Avenue N and 3rd Avenue N.

Prelude will be closed but concessions will be open.

Menu download:
Concessions Menu
The 3pm show has the best ticket availability!
The legacy of the beloved "Mister Rogers" lives on with the hit television series, Daniel Tiger's Neighborhood, from The Fred Rogers Company and airing daily on PBS KIDS. Now, Daniel and all of his friends are hopping aboard Trolley to delight live audiences with DANIEL TIGER'S NEIGHBORHOOD LIVE! Donning his iconic red sweater, Daniel takes the audience on an interactive musical adventure as he and his friends explore the vibrant world of their much-loved Neighborhood of Make-Believe, sharing stories of friendship, helping others, and celebrating new experiences. This live theatrical production filled with singing, dancing, laughter and "grr-ific" surprises will warm the hearts of multiple generations.
Approximate Running Time: 1 hour and 30 minutes, with 1 intermission
Babes in arms will be allowed for this show, although will require a separate ticket. All ages require a ticket to attend Daniel Tiger's Neighborhood LIVE!
---
Event Details
Nov 9 , 2016
Building: 1:30pm; auditorium: 2:30pm for 3pm show & 6pm for 6:30pm show

$18.50 - $47.00

Tickets can be purchased at the Box Office located on the west plaza of KeyArena at Seattle Center, Ticketmaster.com, or charge by phone toll free at (800) 745-3000, TDD (800) 943-4327. All tickets subject to applicable service charges and fees.

The McCaw Hall box office opens 1.5 hours prior to the show start and located in the Kreielsheimer Promenade Lobby.

The garage with the shortest wait times for pre and post event parking is the 5th Avenue North Garage. Located on 5th Avenue N, with entrances on Republican Street and Harrison Street, this garage requires a short walk to McCaw Hall.

Parking is also available at the Mercer Street Garage, conveniently located across the street from McCaw Hall. Entrances to the Garage are on 4th Avenue N and 3rd Avenue N.

Prelude will be closed but concessions will be open.

Menu download:
Concessions Menu