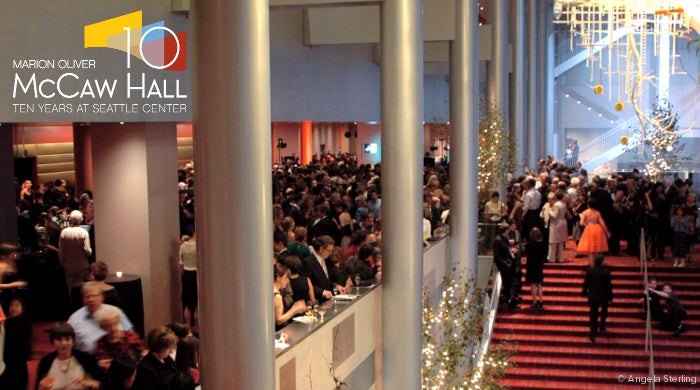 Day of Celebration
Event Details
Oct

27

, 2013

11:00am

No ticket required, just show up!
Marion Oliver McCaw Hall at Seattle Center honors its 10th Anniversary in 2013. The reimagining of this building ten years ago propelled a 73-year-old facility into the 21st Century. Home to Pacific Northwest Ballet and Seattle Opera, the hall has welcomed over 4,000,000 visitors to 5,000-plus events. Now the region's premier entertainment and events venue offers two state-of-the-art auditoriums, a five-story Grand Lobby and several well-appointed meetings spaces.
Seattle Center invites the community to a FREE Day of Celebration marking the 10-year anniversary of Marion Oliver McCaw Hall, 11am – 4pm, Sunday, October 27, at McCaw Hall. The entertainment-packed anniversary event features activities for every member of the family including live dance, music, circus performances, and video presentations on three stages throughout McCaw Hall. Performances will include artists from:
Pacific Northwest Ballet
Seattle Opera
Cornish Latin Ensemble
Filipino Drill Team
3rd Shift Dance
Relay Dance Collective
SANCA – acrobatics and new circus arts
Baladores de Bronce – Mexican folkloric dance
Eduardo Mendonça and Show Brazil! – Brazilian dance and drumming
Maritess Zurbano, Hypnotist
Jacque Larrainzar, Guitarist
Bonnie Birch and Anna Witte, French singer and accordion
In addition, the Day of Celebration will include two special opportunities to perform on the McCaw Hall stage!
Spotlight on [Your Name Here]
Haven't you always wanted your "moment in the spotlight" on a big stage? Well, here is your chance!
First, from 12:30pm to 2:30pm, "Spotlight on [Your Name Here]", will provide a series of short performance "time slots" on stage for individuals or small groups to show their talents! Sing a song, tell some jokes, play the piano, do a dance, play your own instrument, perform magic tricks, recite a poem . . . just so long as it's "family friendly".
We'll provide stage space about 15 feet deep by 30 feet wide, a microphone, a piano, an accompanist (if you need it), CD player, and an introduction by legendary celebrity Emcee Pat Cashman!
All timeslots are filled. Please come and see all the wonderful performances!
Community Chorus
Alternatively, want to perform on stage, but not sure if "Spotlight on [Your Name Here]" is right for you? How about participating in a community chorus performance? We invite all who just love to sing to join Seattle Men's Chorus and Women's Chorus Assistant Music Director Eric Lane Barnes for an hour-long rehearsal of several pop songs starting at 2:00pm, in preparation for a half-hour performance on the McCaw Hall main stage starting at 3:30pm. Sign up starting at Noon on this day, at a table inside McCaw Hall's main entry.
Schedule of Events:
S. Kreielsheimer
Promenade Stage
Grand Lobby
Stage
Susan Brotman Auditorium
11:00am

Filipino Drill Team

11:30am

Jacque Larrainzar

Cornish Latin Ensemble

12:00pm

3rd Shift Dance

Pacific Northwest Ballet

12:30pm

Bonnie Birch &
Anna Witte

Spotlight on
[Your Name Here]

1:00pm

Maritess Zurbano

Spotlight on
[Your Name Here]

1:30pm

Angelo Pizzaro

Spotlight on
[Your Name Here]

2:00pm

Relay Dance Collective

Spotlight on
[Your Name Here]

2:30pm

Eduardo Mendonça
& Show Brazil!

Seattle Opera
Andrew Stenson

3:00pm

Seattle Irish
Dance Company

3:30pm

Bailadores de Bronce

Community Chorus
Schedule is subject to change.
Other events include:
11am - 4:00pm: roving talent acts throughout the lobbies
12pm - 1:25pm: video highlights reel in the Nesholm Family Lecture Hall
1:45pm - 3:10pm: video highlights reel in the Nesholm Family Lecture Hall
2:30pm - 3:30pm: special aerialist performance by SANCA at the North Kreielsheimer Promenade
Please join us for this diverse, fun-filled Day of Celebration at McCaw Hall on Sunday, October 27th, starting at 11:00am!
The 10th Anniversary of Marion Oliver McCaw Hall at Seattle Center is supported in part by:
---
Event Details
Oct 27 , 2013
11:00am

No ticket required, just show up!