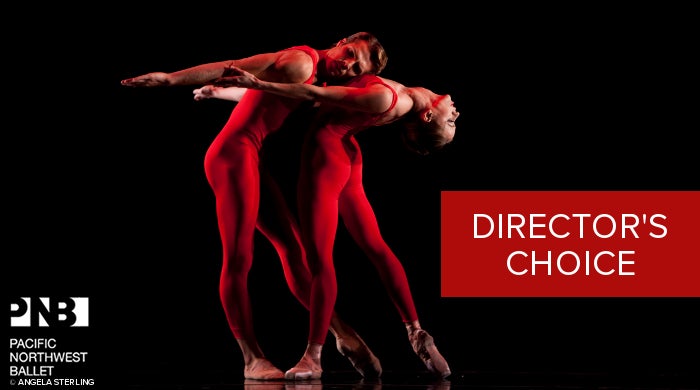 Director's Choice
Presented by Pacific Northwest Ballet
Event Details
Mar

16 - 25

, 2018

Lobby - 2 hours prior to show time

$30 - $187

PNB's Box Office:
206-441-2424

Purchase tickets as part of a season subscription here.

The garage with the shortest wait times for pre and post event parking is the 5th Avenue North Garage. Located on 5th Avenue N, with entrances on Republican Street and Harrison Street, this garage requires a short walk to McCaw Hall.

Parking is also available at the Mercer Street Garage, conveniently located across the street from McCaw Hall. Entrances to the Garage are on 4th Avenue N and 3rd Avenue N.

Call 206-615-0404 to make your reservation at Prelude.

Concessions: We are working on new and exciting changes in our concessions offerings throughout McCaw Hall. You can still skip the lines and pre-order for the intermission at any one of the concession locations. We hope you will come and experience the changes yourself!

Menu downloads:
Prelude Dinner Menu
Prelude Brunch Menu
PETER BOAL'S ANNUAL SELECTION offers audiences a riveting duet, a favorite work, a little controversy, and a world premiere by PNB dancer Ezra Thomson. The limbs of a bonded pair sculpt open air in Slingerland Duet, and pure athleticism surges like reverb from Red Angels' electric violin. Audiences have another chance to debate William Forsythe's contrapuntal One Flat Thing, reproduced, as the dancers take cues from each other on, under, and around 20 tables.
PRODUCTION INFORMATION
WORLD PREMIERE
Music: Francis Poulenc
Choreography: Ezra Thomson
Costume Design: Larae Theige Hascall and Ezra Thomson
Lighting Design: Reed Nakayama

Red Angels
Music: Richard Einhorn
Choreography: Ulysses Dove
Costume Design: Holly Hynes
Lighting Design: Mark Stanley
Slingerland Duet
Music: Gavin Bryars
Choreography: William Forsythe
Lighting Design: William Forsythe
One Flat Thing, reproduced
Music: Thom Willems
Choreography: William Forsythe
Scenic & Lighting Design: William Forsythe
Costume Design: Stephen Galloway
Pacific Northwest Ballet principal dancers Lucien Postlewaite and Lesley Rausch in Ulysses Dove's Red Angels, which PNB is presenting as part of DIRECTOR'S CHOICE.
---
Event Details
Mar 16 - 25 , 2018
Lobby - 2 hours prior to show time

$30 - $187

PNB's Box Office:
206-441-2424

Purchase tickets as part of a season subscription here.

The garage with the shortest wait times for pre and post event parking is the 5th Avenue North Garage. Located on 5th Avenue N, with entrances on Republican Street and Harrison Street, this garage requires a short walk to McCaw Hall.

Parking is also available at the Mercer Street Garage, conveniently located across the street from McCaw Hall. Entrances to the Garage are on 4th Avenue N and 3rd Avenue N.

Call 206-615-0404 to make your reservation at Prelude.

Concessions: We are working on new and exciting changes in our concessions offerings throughout McCaw Hall. You can still skip the lines and pre-order for the intermission at any one of the concession locations. We hope you will come and experience the changes yourself!

Menu downloads:
Prelude Dinner Menu
Prelude Brunch Menu