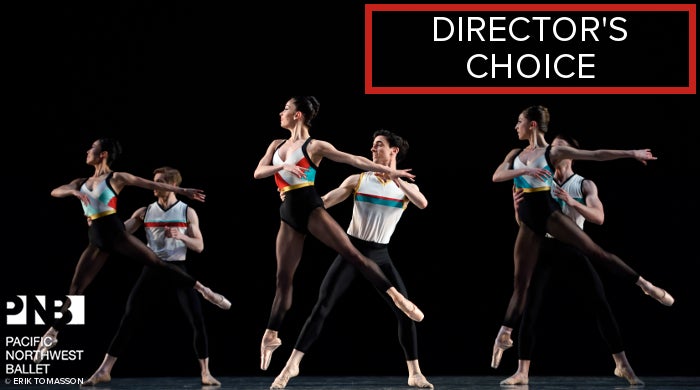 Director's Choice
Presented by Pacific Northwest Ballet
Event Details
Mar

15 - 24

, 2019

Lobby - 2 hours prior to show time

PNB's Box Office:
206-441-2424

The garage with the shortest wait times for pre and post event parking is the 5th Avenue North Garage. Located on 5th Avenue N, with entrances on Republican Street and Harrison Street, this garage requires a short walk to McCaw Hall.

Parking is also available at the Mercer Street Garage, conveniently located across the street from McCaw Hall. Entrances to the Garage are on 4th Avenue N and 3rd Avenue N.

Call 206-615-0404 to make your reservation at Prelude.

Concessions: We are working on new and exciting changes in our concessions offerings throughout McCaw Hall. You can still skip the lines and pre-order for the intermission at any one of the concession locations. We hope you will come and experience the changes yourself!

Menu downloads:
Prelude Dinner Menu
Prelude Brunch Menu
THE SECOND MIXED BILL OF THE SEASON offers Peter Boal's seasonal selections, handpicked to introduce the audience to dancemakers who are evolving the art form. His interest in American choreographers Robyn Mineko Williams and Matthew Neenan prompted commissions to make new works for the company. These are joined by a third new-to-PNB work by ballet superstar Justin Peck, set to a score by Sufjan Stevens.
PRODUCTION INFORMATION
The Trees The Trees (World Premiere)
Music: Kyle Vegter
Choreography: Robyn Mineko Williams
Words: Heather Christle
Vocalist: Alicia Walter

Bacchus (World Premiere)
Music: Oliver Davis
Choreography: Matthew Neenan
In the Countenance of Kings (PNB Premiere)
Music: Sufjan Stevens
Choreography: Justin Peck
Costume Design: Ellen Warren
Lighting Design: Brandon Stirling Baker
San Francisco Ballet company dancers in Justin Peck's In the Countenance of Kings. Pacific Northwest Ballet will be performing In the Countenance of Kings as part of DIRECTOR'S CHOICE. Photo © Erik Tomasson, courtesy of San Francisco Ballet.
---
Event Details
Mar 15 - 24 , 2019
Lobby - 2 hours prior to show time

PNB's Box Office:
206-441-2424

The garage with the shortest wait times for pre and post event parking is the 5th Avenue North Garage. Located on 5th Avenue N, with entrances on Republican Street and Harrison Street, this garage requires a short walk to McCaw Hall.

Parking is also available at the Mercer Street Garage, conveniently located across the street from McCaw Hall. Entrances to the Garage are on 4th Avenue N and 3rd Avenue N.

Call 206-615-0404 to make your reservation at Prelude.

Concessions: We are working on new and exciting changes in our concessions offerings throughout McCaw Hall. You can still skip the lines and pre-order for the intermission at any one of the concession locations. We hope you will come and experience the changes yourself!

Menu downloads:
Prelude Dinner Menu
Prelude Brunch Menu