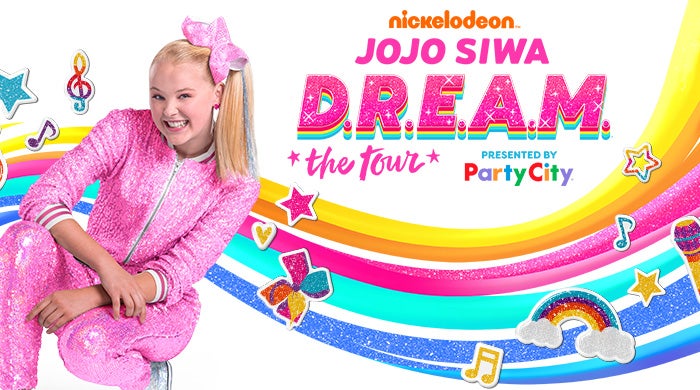 Nickelodeon's JoJo Siwa D.R.E.A.M. The Tour
Nickelodeon's JoJo Siwa D.R.E.A.M. The Tour
with special guests The Belles
Event Details
May

23

, 2019

Lobby - 4:30 pm

$34.50 - $225 + applicable fees

For information regarding what is in the VIP Packages, click HERE.

Tickets can be purchased at Ticketmaster.com, or charge by phone toll free at (800) 745-3000, TDD (800) 943-4327. All tickets subject to applicable service charges and fees. The McCaw Hall box office located in the Kreielsheimer Promenade Lobby opens 1.5 hours prior to the show start.

The garage with the shortest wait times for pre and post event parking is the 5th Avenue North Garage. Located on 5th Avenue N, with entrances on Republican Street and Harrison Street, this garage requires a short walk to McCaw Hall.

Parking is also available at the Mercer Street Garage, conveniently located across the street from McCaw Hall. Entrances to this garage are on 4th Avenue N and 3rd Avenue N.

Call 206-615-0404 to make your reservation for buffet service at Prelude. Service begins at 4:30 pm.

Concessions will be available on all lobby levels, serving snacks & beverages.

Menu download:
Nickelodeon star and YouTube sensation JoJo Siwa announced live on her YouTube channel to millions of fans that she is embarking on her first multi-city, live concert tour: Nickelodeon's JoJo Siwa D.R.E.A.M. The Tour. Making stops in 25 cities across North America including Los Angeles, Seattle, Denver, New York and Atlanta. Siwa will kick off her show at the Comerica Theatre in Phoenix, Arizona on May 17, with the final performance at Bass Concert Hall in Austin, Texas, on June 26. The tour is produced by Nickelodeon and AEG Presents. The news was announced today at a special fan event held at Sugar Factory American Brasserie in New York City.
Said Siwa: "I'm so excited to see my fans and to perform my music live. It's going to be amazing and epic and I have so many surprises in store for everyone. Thank you so much Nickelodeon and AEG for helping this dream come true. This is going to be the best tour ever!"
---
Event Details
May 23 , 2019
Lobby - 4:30 pm

$34.50 - $225 + applicable fees

For information regarding what is in the VIP Packages, click HERE.

Tickets can be purchased at Ticketmaster.com, or charge by phone toll free at (800) 745-3000, TDD (800) 943-4327. All tickets subject to applicable service charges and fees. The McCaw Hall box office located in the Kreielsheimer Promenade Lobby opens 1.5 hours prior to the show start.

The garage with the shortest wait times for pre and post event parking is the 5th Avenue North Garage. Located on 5th Avenue N, with entrances on Republican Street and Harrison Street, this garage requires a short walk to McCaw Hall.

Parking is also available at the Mercer Street Garage, conveniently located across the street from McCaw Hall. Entrances to this garage are on 4th Avenue N and 3rd Avenue N.

Call 206-615-0404 to make your reservation for buffet service at Prelude. Service begins at 4:30 pm.

Concessions will be available on all lobby levels, serving snacks & beverages.

Menu download: