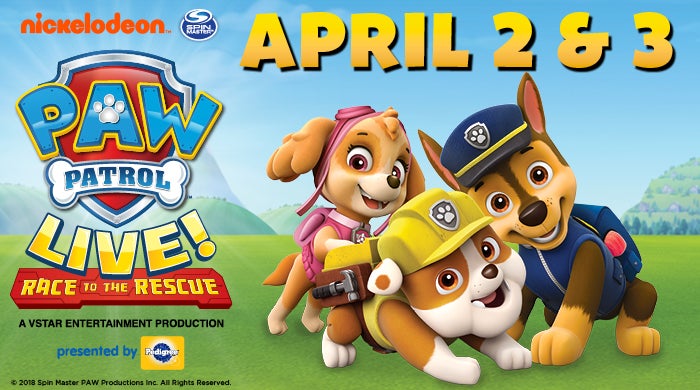 PAW Patrol Live!
"Race to the Rescue"
Event Details
Apr

2 - 3

, 2018

$22, $28, $38, $48, $68, $138

Tickets can be purchased at the Box Office located on the west plaza of KeyArena at Seattle Center, Ticketmaster.com, or charge by phone toll free at (800) 745-3000, TDD (800) 943-4327. All tickets subject to applicable service charges and fees. The McCaw Hall box office, located in the Kreielsheimer Promenade Lobby, opens 1.5 hours prior to the show start.

The garage with the shortest wait times for pre and post event parking is the 5th Avenue North Garage. Located on 5th Avenue N, with entrances on Republican Street and Harrison Street, this garage requires a short walk to McCaw Hall.

Parking is also available at the Mercer Street Garage, conveniently located across the street from McCaw Hall. Entrances to the Garage are on 4th Avenue N and 3rd Avenue N.

Call 206-615-0404 to make your reservation at Prelude.

Concessions: We are working on new and exciting changes in our concessions offerings throughout McCaw Hall. You can skip the lines and pre-order for the intermission at any one of the concession locations. We hope you will come and experience the changes yourself!

Menu downloads:
Prelude Menu
Featuring a cast of everybody's favorite PAW Patrol characters and presented by VStar Entertainment Group and Nickelodeon, PAW Patrol Live! shows that "no job is too big, no pup is too small," and shares lessons for all ages about citizenship, social skills and problem-solving as the characters each use their unique skills and teamwork. The show includes two acts and an intermission, and engages audiences with Bunraku puppetry, an innovative costuming approach that brings the PAW Patrol characters to life on stage with their vehicles and packs.
---
Event Details
Apr 2 - 3 , 2018

$22, $28, $38, $48, $68, $138

Tickets can be purchased at the Box Office located on the west plaza of KeyArena at Seattle Center, Ticketmaster.com, or charge by phone toll free at (800) 745-3000, TDD (800) 943-4327. All tickets subject to applicable service charges and fees. The McCaw Hall box office, located in the Kreielsheimer Promenade Lobby, opens 1.5 hours prior to the show start.

The garage with the shortest wait times for pre and post event parking is the 5th Avenue North Garage. Located on 5th Avenue N, with entrances on Republican Street and Harrison Street, this garage requires a short walk to McCaw Hall.

Parking is also available at the Mercer Street Garage, conveniently located across the street from McCaw Hall. Entrances to the Garage are on 4th Avenue N and 3rd Avenue N.

Call 206-615-0404 to make your reservation at Prelude.

Concessions: We are working on new and exciting changes in our concessions offerings throughout McCaw Hall. You can skip the lines and pre-order for the intermission at any one of the concession locations. We hope you will come and experience the changes yourself!

Menu downloads:
Prelude Menu