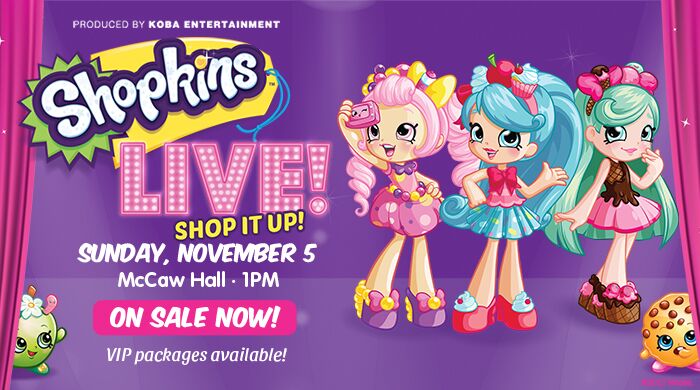 Shopkins Live!
Shopkins Live! Shop It Up!
Event Details
Nov

5

, 2017

$18 - $97

Tickets can be purchased at the Box Office located on the west plaza of KeyArena at Seattle Center, Ticketmaster.com, or charge by phone toll free at (800) 745-3000, TDD (800) 943-4327. All tickets subject to applicable service charges and fees. The McCaw Hall box office opens 1.5 hours prior to the show start and located in the Kreielsheimer Promenade Lobby.

The garage with the shortest wait times for pre and post event parking is the 5th Avenue North Garage. Located on 5th Avenue N, with entrances on Republican Street and Harrison Street, this garage requires a short walk to McCaw Hall.

Parking is also available at the Mercer Street Garage, conveniently located across the street from McCaw Hall. Entrances to the Garage are on 4th Avenue N and 3rd Avenue N.

Call 206-615-0404 to make your reservation at Prelude.

Concessions: We are working on new and exciting changes in our concessions offerings throughout McCaw Hall. You can still skip the lines and pre-order for the intermission at any one of the concession locations. We hope you will come and experience the changes yourself!

Menu downloads:
Prelude Menu
Concessions Menu
Shopkins Live! is finally here! The #1 kids toy in North America is live and on stage in Shopkins Live! Shop It Up! Your beloved Shoppies make their theatrical debut in an original new live show featuring musical performances by Jessicake, Bubbleisha, Peppa-Mint, Rainbow Kate, Cocolette, Polli Polish and more! The fun and fashionista Shoppies are joined by the Shopkins – the grocery store-themed mini collectable toys - Apple Blossom, Strawberry Kiss, Lippy Lips, Kooky Cookie, Poppy Corn, Slick Breadstick and Shady Diva. An ensemble cast of multi-talented performers brings the show to life on stage through urban style music, song and dance.
All of Shopville is in a tizz as preparations get underway for the annual "Funtastic Food and Fashion Fair". Shady Diva showcases her latest fashion designs; Lippy Lips gives colorful advice at the nail salon; Kooky Cookie tries to get in a beauty nap! But wait — no event is complete without a few hiccups! Who has high-jinxed the fashion pageant? Where is the super-secret celebrity guest? Will Slick Breadstick ever find a dance partner? The Shopkins and Shoppies need your help – the show must go on!
Shopkins Live! immerses audiences in the world of Shopville using custom-designed theatrical costumes, creative onstage characters, state-of-art video and set design, and original pop songs and music! Grab your besties and check out Shopkins Live! Shop It Up! Check ya later!
Approximate Running Time: 1 hour, 40 minutes, with 1 intermission
Group Sales
Group Discount Available!
Save 10% per ticket with orders of 10 or more!* Tickets start at $18**
*Per ticket fees are also waived. **$5 processing fee per order.
Please contact Bryan Watson at [email protected] or 206-428-6303 to purchase or for more information.
---
Event Details
Nov 5 , 2017

$18 - $97

Tickets can be purchased at the Box Office located on the west plaza of KeyArena at Seattle Center, Ticketmaster.com, or charge by phone toll free at (800) 745-3000, TDD (800) 943-4327. All tickets subject to applicable service charges and fees. The McCaw Hall box office opens 1.5 hours prior to the show start and located in the Kreielsheimer Promenade Lobby.

The garage with the shortest wait times for pre and post event parking is the 5th Avenue North Garage. Located on 5th Avenue N, with entrances on Republican Street and Harrison Street, this garage requires a short walk to McCaw Hall.

Parking is also available at the Mercer Street Garage, conveniently located across the street from McCaw Hall. Entrances to the Garage are on 4th Avenue N and 3rd Avenue N.

Call 206-615-0404 to make your reservation at Prelude.

Concessions: We are working on new and exciting changes in our concessions offerings throughout McCaw Hall. You can still skip the lines and pre-order for the intermission at any one of the concession locations. We hope you will come and experience the changes yourself!

Menu downloads:
Prelude Menu
Concessions Menu