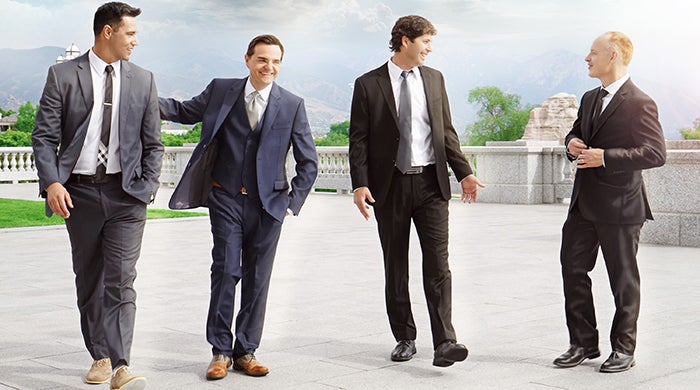 The Piano Guys
Event Details
Oct

2 - 3

, 2017

$47 - $167

Tickets can be purchased at the Box Office located on the west plaza of KeyArena at Seattle Center, Ticketmaster.com, or charge by phone toll free at (800) 745-3000, TDD (800) 943-4327. All tickets subject to applicable service charges and fees. The McCaw Hall box office opens 1.5 hours prior to the show start and located in the Kreielsheimer Promenade Lobby.

The garage with the shortest wait times for pre and post event parking is the 5th Avenue North Garage. Located on 5th Avenue N, with entrances on Republican Street and Harrison Street, this garage requires a short walk to McCaw Hall.

Parking is also available at the Mercer Street Garage, conveniently located across the street from McCaw Hall. Entrances to the Garage are on 4th Avenue N and 3rd Avenue N.

Call 206-615-0404 to make your reservation at Prelude.
Concessions: We are working on new and exciting changes in our concessions offerings throughout McCaw Hall. You can still skip the lines and pre-order for the intermission at any one of the concession locations. We hope you will come and experience the changes yourself!

Menu downloads:
Prelude Dinner Menu
Prelude Dessert Menu
Seattle welcomes The Piano Guys this fall for a special performance at Marion Oliver McCaw Hall! The group, which seamlessly blends elements of classical and pop music and has earned an international fanbase with its original, online music videos.
Hailing from Utah,
The Piano Guys
became an Internet sensation by way of their immensely successful series of strikingly original self-made music videos. They've made over 35 since joining forces in early 2011, including their hit video, an innovative 10-handed version of One Direction's
"What Makes You Beautiful
." But it's the Guys' highly original blend of classical music with pop that has really been the cause of an Internet phenomenon that brought them to their major label self-titled debut album released on Sony Music Masterworks in 2012.
This release was followed by their sophomore album, The Piano Guys 2, holiday album, A Family Christmas, Wonders, and recently released The Piano Guys Live! album all available now on Portrait, an imprint of Sony Music Masterworks.
---
Event Details
Oct 2 - 3 , 2017

$47 - $167

Tickets can be purchased at the Box Office located on the west plaza of KeyArena at Seattle Center, Ticketmaster.com, or charge by phone toll free at (800) 745-3000, TDD (800) 943-4327. All tickets subject to applicable service charges and fees. The McCaw Hall box office opens 1.5 hours prior to the show start and located in the Kreielsheimer Promenade Lobby.

The garage with the shortest wait times for pre and post event parking is the 5th Avenue North Garage. Located on 5th Avenue N, with entrances on Republican Street and Harrison Street, this garage requires a short walk to McCaw Hall.

Parking is also available at the Mercer Street Garage, conveniently located across the street from McCaw Hall. Entrances to the Garage are on 4th Avenue N and 3rd Avenue N.

Call 206-615-0404 to make your reservation at Prelude.
Concessions: We are working on new and exciting changes in our concessions offerings throughout McCaw Hall. You can still skip the lines and pre-order for the intermission at any one of the concession locations. We hope you will come and experience the changes yourself!

Menu downloads:
Prelude Dinner Menu
Prelude Dessert Menu