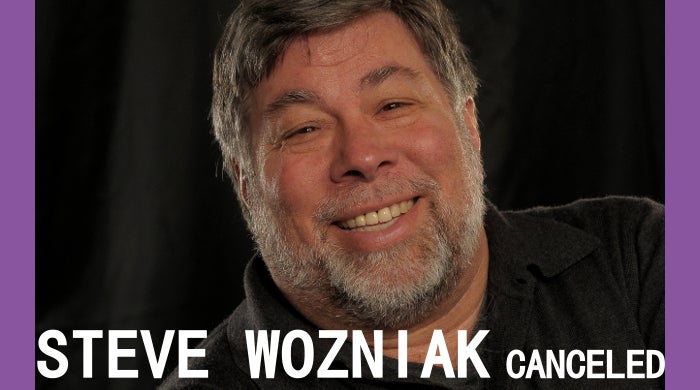 Steve Wozniak - Canceled
Due to an unforseen scheduling conflict, the Steve Wozniak lecture on Monday, March 25 has been canceled.
Any ticket holder to the show has the following options:
If you have any additional questions or concerns, please contact Unique Lives directly at 1-844-827-8118 or [email protected].
---
In partnership with his friend Steve Jobs while working in his garage, Wozniak invented the Apple I computer. The pair founded Apple Computers in 1976 with Ronald Wayne, releasing some of the first personal computers on the market. Wozniak also personally developed the next model, Apple II, which established Apple as a major player in microcomputing and by 1983, Apple had a stock value of $985 million. Today it has a stock value of a Trillion dollars. Sadly, in 1981, Wozniak was injured when the private plane he was piloting crashed while taking off from the Santa Cruz Sky Park. His painstaking recovery lasted two years, as he suffered from a variety of injuries and amnesia. Since leaving Apple in 1985, Wozniak aka "the WOZ"…has invested much of his time and wealth in philanthropic activities, focusing primarily on education. In 2006, Wozniak published his autobiography, "iWoz: From Computer Geek to Cult Icon: How I Invented the Personal Computer, Co-Founded Apple, and Had Fun Doing It." Don't miss an evening with a true Tech Icon -- one of Silicon Valley's most creative engineers.
In addition to STEVE WOZNIAK, the below speakers are a part of this exciting series:
ELIZABETH GILBERT – Author of the famous memoir, "Eat, Pray, Love". Sunday, April 14, 2019
GENERAL WESLEY CLARK – Retired General of the United States Army. Monday, May 6, 2019
BOB NEWHART – An Evening with a Comic Legend. Monday, May 20, 2019
WILLIAM SHATNER – A look inside William Shatner's Universe. Monday, June 10, 2019
RONAN FARROW – Journalist and Crusader for Women's Rights. Monday, June 17, 2019
---