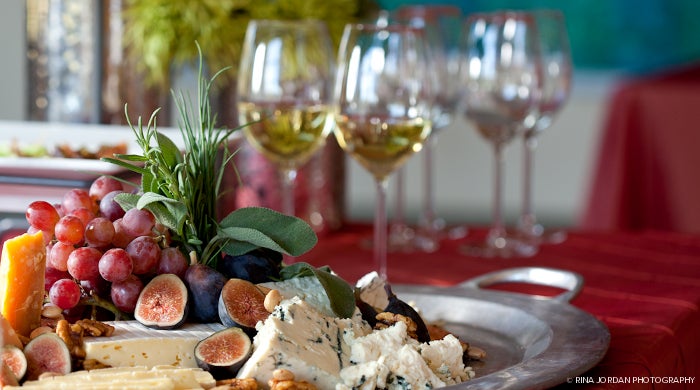 Winemaker Happy Hour
Presented by SAVOR and McCaw Hall
Featuring Winemaker Marla Carroll
Taste through the Franciscan Estate Napa Valley portfolio with Napa Valley Winemaker, Marla Carroll. Each selection will be skillfully paired with appetizers by Executive Chef Shawn Applin.
Wine Pairings and Menu
Sauvignon Blanc, paired with:
Kumomoto Oysters, Cucumber "Caviar"
Dungeness Crab Spoons, Lemongrass Aioli

Chardonnay, paired with:
Salmon Mi Cuit, Watercress, Crème Fraiche
Grilled Asparagus wrapped in Proscuitto, Smoked Tomato Confit

Merlot, paired with:
Foie Gras Torchon, Smoked Cherry Relish
Grilled Octopus, Spanish flavors

Cabernet, paired with:
Grilled Beef Canapés, Roasted Mushroom, Cabrales Cheese
Vaudavan Spiced Lamb "Popcicles"

In addition to the above offerings, we'll be serving:
Import and Domestic Cheese
Charcuterie
Assorted Miniature Sweets
About Franciscan Estates
Located in the heart of Napa Valley, Franciscan Estate is one of California's most loved and respected wineries. Franciscan Estate's rich, 35-year history has been shaped by an artisanal approach to winemaking – blending only the best from hundreds of lots to craft fine wines that fully express the classic varieties and its vineyard origins. The winery's prized vineyards include 240 acres within the renowned Oakville appellation. Franciscan Estate's catalog of prestige tier wines includes Magnificat, a trailblazing red wine blend of classic Bordeaux varietals, and Cuvée Sauvage, the first Napa Valley Chardonnay to revive the lost art of wild yeast fermentation. These wines are complemented by a range of Napa Valley Cabernet Sauvignon, Chardonnay, Merlot, and Sauvignon Blanc wines.
About Marla Carroll
A native of California, Marla Carroll grew up in a small town in the mountains separating the Southern California High Desert and the rich agricultural lands of the Central Valley. It was here she grew up exploring the outdoors, hiking, camping, backpacking, and cultivating an appreciation for the outdoors, and laying the foundation for her deep interest in viticulture and the environmental factors that shape the expression of a vineyard.
With a strong understanding of nature and the science behind winemaking, Marla respects and appreciates the biological intricacies that go into each bottle. However, it is her passion for food and flavors that shape her approach to crafting wine at Franciscan Estate, paying close attention to the character and expression of each lot to create wines with complexity and nuance.
"I'm inspired by the endless layers of complexity that begin in the vineyard and lead to a bottle of wine. I love that it changes over time, yet is a snapshot of a particular vintage and harvest conditions." says Marla.
Marla received a degree in Biotechnology from the University of California at Davis with a concentration in Enology & Fermentation Science. While a few key courses introduced her to the world of wine, it wasn't until she took a position during harvest at the historic Charles Krug Winery in 2002 in the Napa Valley, that she truly understood her interest in winemaking. In 2004, Marla accepted a position with Franciscan Estate, spending seven years in a series of roles, including Enologist and Assistant Winemaker. After some time off with her family, Marla reunited with the Franciscan Estate team in 2013, where she continues to work closely with director of winemaking Janet Myers.
For more information on Franciscan Estate, please contact Anne Siegel at [email protected].
About Executive Chef Shawn Applin
Chef Applin was trained at the Culinary Institute of America, Hyde Park, and has worked with James Beard award winning Chef's in Seattle, Mexico and San Francisco. Having joined SAVOR… at McCaw Hall in 2010, Chef Applin has raised the bar for catering, concessions and restaurant services by marrying his training and experience with the palate of Seattle diners and the abundance of locally, sustainably farmed ingredients in the Pacific Northwest.
Questions? Call or email Amanda Viereck, Catering Sales Manager for SAVOR… McCaw Hall at (206) 615-0259 or [email protected].
---