Resident Tenants
McCaw Hall is owned by the City of Seattle and operated by Seattle Center, in accordance with a unique 25-year Operating Agreement with its resident tenants, Seattle Opera and Pacific Northwest Ballet. McCaw Hall's Operating Agreement provides its resident tenants with on-going oversight and shared responsibility for the Hall's annual budget and operations.
Pacific Northwest Ballet, one of the largest and most highly regarded ballet companies in the United States, was founded in 1972. In July 2005, former New York City Ballet principal dancer, Peter Boal became artistic director, succeeding Kent Stowell and Francia Russell, artistic directors since 1977. The Company of nearly fifty dancers presents an average of one hundred performances each year of full-length and mixed repertory ballets at McCaw Hall.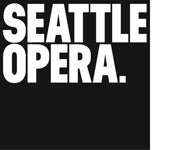 Seattle Opera is a leading opera company, recognized both in the United States and around the world. The company is committed to advancing the cultural life in the Pacific Northwest with performances of the highest caliber, and through innovative education and community programs that take opera far beyond the McCaw Hall stage. Each year, more than 95,000 people attend Seattle Opera performances and the company's programs serve more than 400,000 people of all ages (including school performances, radio broadcasts and community engagement initiatives). Seattle Opera is especially known for its acclaimed works in the Richard Wagner canon, and has created an "international attraction" in its presentation of Wagner's epic Ring, according to The New York Times.