Prelude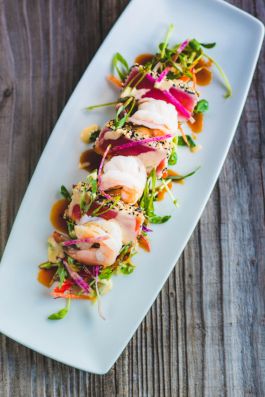 Operated by Spectra Food Services & Hospitality, Prelude at McCaw Hall offers show attendees a delectable dining experience.
We know that food & beverage plays a large role in making your night out an extraordinary occasion. At Prelude Restaurant and throughout the facility, Spectra's approach is to ensure our food reflects the flavors, quality and authenticity of the agriculture in the region. We only use the freshest, locally sourced ingredients whenever possible.
Our Executive Chef loves creating new and innovative menus for our restaurant diners based on the season or production. From delightful appetizers to exquisite entrees and delicious desserts along with a wonderful selection of wines, we will help to make your show experience one to remember! Prelude Restaurant also has an appetizing brunch menu available to matinee goers prior to show time.
In addition, Prelude extends the guest dining experience by offering a convenient pre-order option for intermission. Whether you are interested in a full course meal or a tasty appetizer, your order will be ready for the intermission and waiting at your table upon arrival!​
Prelude opens 2 hours prior to Opera & Ballet performances.
We encourage you to make reservations by calling 206-615-0404 or by clicking on the OpenTable link. Below you will find recent menus. Please note that menus may change with each production.
Concessions
Spectra Food Services & Hospitality is working on an exciting new lineup of concessions offerings at McCaw Hall, however you can still skip the lines and pre-order for the intermission at any concessions location. Note: pre-orders can only happen onsite, day of your performance. We look forward to introducing you to our new selection of menu items and concepts!
About Spectra
Spectra Food Services & Hospitality is the exclusive food and beverage provider at McCaw Hall and provides all culinary services to the performing arts hall and its private events.
Throughout Canada and the United States Spectra Food Services & Hospitality serves over 250,000 events and 40 million guests per year. Spectra's senior leaders have been responsible for serving multi-million dollar clients such as Microsoft, People Soft, POW WOW, Amway, McDonald's and John Deere. They have also managed high profile events such as the Olympics, the Super Bowl and the World Series, and even catering for the President of the United States. ​