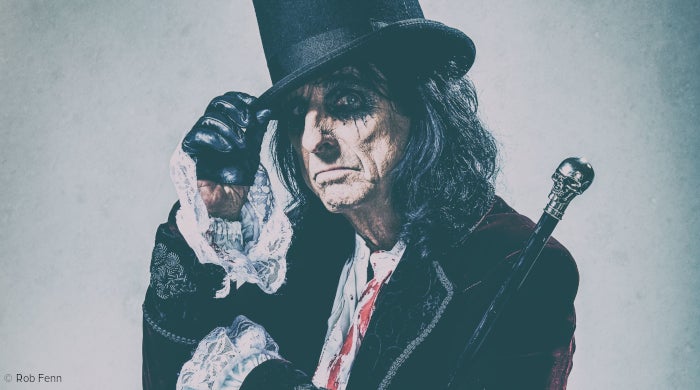 Alice Cooper
with special guest Buckcherry
Event Details
Apr

20

, 2022

$34.50 - $74.50, plus applicable fees

Your tickets for the original Apr 20, 2019 or rescheduled Nov 30, 2020 date will be valid for entry on the new date, so hang on to them! Contact Ticketmaster via your TM account by Jan 5, 2022 if you want a refund.

---

Tickets can be purchased at Ticketmaster.com. All tickets subject to applicable service charges and fees.

As of March 25: No proof of COVID Vaccination or recent COVID test required to attend Alice Cooper. Masks are not required, but you're welcome to wear one.

The garage with the shortest wait times for pre and post event parking is the 5th Avenue North Garage. Located on 5th Avenue N, with entrances on Republican Street and Harrison Street, this garage requires a short walk to McCaw Hall.

Parking is also available at the Mercer Street Garage, conveniently located across the street from McCaw Hall. Entrances to the Garage are on 4th Avenue N and 3rd Avenue N.

Call 206-615-0404 to make your reservation at Prelude.
Menu downloads:
New date for the April 20, 2019 show
Alice Cooper pioneered a grandly theatrical brand of hard rock that was designed to shock. Drawing equally from horror movies, vaudeville, and garage rock, the group created a stage show that featured electric chairs, guillotines, fake blood and boa constrictors. He continues to tour regularly, performing shows worldwide with the dark and horror-themed theatrics that he's best known for.
With a schedule that includes six months each year on the road, Alice Cooper brings his own brand of rock psycho-drama to fans both old and new, enjoying it as much as the audience does. Known as the architect of shock-rock, Cooper (in both the original Alice Cooper band and as a solo artist) has rattled the cages and undermined the authority of generations of guardians of the status quo, continuing to surprise fans and exude danger at every turn, like a great horror movie, even in an era where CNN can present real life shocking images.
With his influence on rock & roll and popular culture long since acknowledged, there is little that Alice Cooper hasn't achieved in his remarkable career, including platinum albums, sold-out tours and any number of honors and career achievement awards.
If you need to request a refund for the new date, please contact Ticketmaster by January 5, 2022 via your Ticketmaster Account.
---
Event Details
Apr 20, 2022

$34.50 - $74.50, plus applicable fees

Your tickets for the original Apr 20, 2019 or rescheduled Nov 30, 2020 date will be valid for entry on the new date, so hang on to them! Contact Ticketmaster via your TM account by Jan 5, 2022 if you want a refund.

---

Tickets can be purchased at Ticketmaster.com. All tickets subject to applicable service charges and fees.

As of March 25: No proof of COVID Vaccination or recent COVID test required to attend Alice Cooper. Masks are not required, but you're welcome to wear one.

The garage with the shortest wait times for pre and post event parking is the 5th Avenue North Garage. Located on 5th Avenue N, with entrances on Republican Street and Harrison Street, this garage requires a short walk to McCaw Hall.

Parking is also available at the Mercer Street Garage, conveniently located across the street from McCaw Hall. Entrances to the Garage are on 4th Avenue N and 3rd Avenue N.

Call 206-615-0404 to make your reservation at Prelude.
Menu downloads: