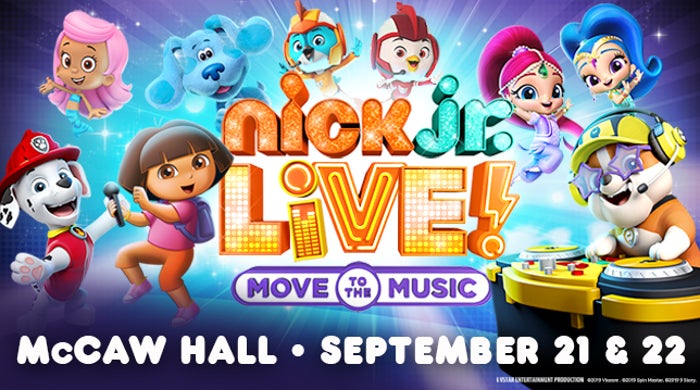 Nick Jr. Live! "Move to the Music"
Nick Jr. Live! "Move to the Music"
Event Details
Sep

21 - 22

, 2019

1.5 hours prior to show start

$19 - $125 + applicable fees

Tickets can be purchased at Ticketmaster.com, or charge by phone toll free at (800) 745-3000, TDD (800) 943-4327. All tickets subject to applicable service charges and fees. The McCaw Hall box office located in the Kreielsheimer Promenade Lobby opens 1.5 hours prior to the show start.

The garage with the shortest wait times for pre and post event parking is the 5th Avenue North Garage. Located on 5th Avenue N, with entrances on Republican Street and Harrison Street, this garage requires a short walk to McCaw Hall.

Parking is also available at the Mercer Street Garage, conveniently located across the street from McCaw Hall. Entrances to this garage are on 4th Avenue N and 3rd Avenue N.

Call 206-615-0404 to make your reservation for buffet service at Prelude on Saturday, September 21. Service will be 11:30 am - 2 pm.

Concessions will be available both days on Grand Lobby, serving snacks & beverages.

Menu download:
You're invited to sing, dance, clap, cheer and move to the music with your friends from Bubble Guppies, PAW Patrol, Dora The Explorer, Shimmer and Shine, Blue's Clues and You, Blaze and the Monster Machines and Top Wing in an unforgettable musical spectacular! Nick Jr. Live! "Move to the Music" follows Dora and her PAW co-hosts, Marshall and Rubble, as they team up with their Nick Jr. friends, live on stage together for the first time ever, in a one-of-a-kind adventure sure to excite the whole family!
VIP Experience
Nick Jr. Live! VIPs are treated to premium seating and access to an after-show Meet & Greet* with Dora the Explorer and Marshall from PAW Patrol. Plus, get an exclusive photo opportunity with Blaze from Blaze and the Monster Machines! VIPs also receive a VIP merchandise item and souvenir lanyard. Each adult & child (aged 1 & up) must have a VIP ticket. Pick up your VIP packet at the VIP check-in table prior to the show.
*Meet and greet characters are subject to change.
---
Event Details
Sep 21 - 22, 2019
1.5 hours prior to show start

$19 - $125 + applicable fees

Tickets can be purchased at Ticketmaster.com, or charge by phone toll free at (800) 745-3000, TDD (800) 943-4327. All tickets subject to applicable service charges and fees. The McCaw Hall box office located in the Kreielsheimer Promenade Lobby opens 1.5 hours prior to the show start.

The garage with the shortest wait times for pre and post event parking is the 5th Avenue North Garage. Located on 5th Avenue N, with entrances on Republican Street and Harrison Street, this garage requires a short walk to McCaw Hall.

Parking is also available at the Mercer Street Garage, conveniently located across the street from McCaw Hall. Entrances to this garage are on 4th Avenue N and 3rd Avenue N.

Call 206-615-0404 to make your reservation for buffet service at Prelude on Saturday, September 21. Service will be 11:30 am - 2 pm.

Concessions will be available both days on Grand Lobby, serving snacks & beverages.

Menu download: