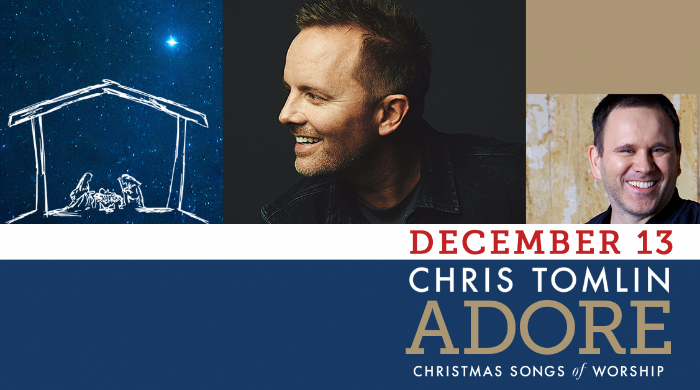 CHRIS TOMLIN'S "ADORE" TOUR, FEATURING MATT REDMAN, MAKES A STOP IN SEATTLE THIS DECEMBER AT McCAW HALL
CHRIS TOMLIN'S "ADORE" TOUR, FEATURING MATT REDMAN, MAKES A STOP IN SEATTLE THIS DECEMBER AT McCAW HALL
Jun 13, 2016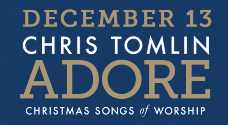 Who: Chris Tomlin
Featuring Matt Redman
Where: Marion Oliver McCaw Hall
When: December 13, 2016 at 7:00 pm
Tickets: Tickets are on sale Friday June 17th at 10:00 am at the Seattle Center Box Office located on 1st Ave N. on the west side of KeyArena, Ticketmaster.com, or charge by phone toll free at (800) 745-3000.
$75, $55, $45 & $35 for Reserved Seats*
$5 additional for Day of / Door Sales
All tickets subject to applicable service charges and fees.
What: Seattle, WA. Grammy and Dove® award-winning, Christian worship Phenom Chris Tomlin hits the road again, this December, for his "Adore" Christmas Tour, featuring special guest, two-time Grammy and Dove® award-winning, Matt Redman. Chis and Matt look forward to coming to Seattle and celebrating the reason for the season, the birth of our Lord and Savior.
Chris was recently quoted as saying "These are my favorite shows to do, and intimate setting all worshiping together around the birth of Christ, what could be better"
The tour makes a stop in Seattle, at the beautiful McCaw Hall on Tuesday, December 13th, 2016 at 7 pm.
Worshipers are encouraged to buy tickets early, as the last time Chris Tomlin played in the area, the show sold out. The highly anticipated night of worship will feature Chris Tomlin's signature tunes as well as new favorites from the new album, Adore – Christmas Songs of Worship. With twelve albums, 12 No. 1 radio singles, a GRAMMY® Award and eight additional nominations, three Billboard Music Awards, 21 Dove Awards, a platinum and four gold albums to his credit, Chris Tomlin is among the most well-known and influential artists in contemporary Christian music. Referred to by Time magazine as "most likely the most often sung artist anywhere," Tomlin also has 15 of the Top 100 CCLI songs, with 4 of them being in the top 10.
Opening the show will be the beloved singer songwriter, Matt Redman. Having penned worship anthems such as "10,000 Reasons (Bless the Lord)," "Heart of Worship" and "Blessed Be Your Name," this highly anticipated night of worship will feature songs from Redman's release, UNBROKEN PRAISE album along with an array of his catalog of church-favorites from the past. Redman also has 40 of the Top 500 CCLI songs with 6 of them being in the top 10.
###
LMG Concerts Contact:
Justine Langford
Phone: (360) 696-4558
E-Mail: justine@lmgconcerts.com
About Marion Oliver McCaw Hall
Part of Seattle Center and home to the internationally acclaimed Seattle Opera and Pacific Northwest Ballet, McCaw Hall is a state-of-the-art performing art center and premier special event venue. Each year McCaw Hall hosts over 300 events in the Susan Brotman Auditorium, Nesholm Family Lecture Hall and an attractive range of lobby and reception spaces. www.mccawhall.com
About Seattle Center
Connect to the extraordinary at Seattle Center, an active civic, arts and family gathering place in the core of our region. More than 30 cultural, educational, sports and entertainment organizations that reside on the grounds, together with a broad range of public and community programs, create thousands of events on the 74-acre campus and attract over 12 million visitors each year. At Seattle Center, our purpose is to create exceptional events, experiences and environments that delight and inspire the human spirit to build stronger communities. Activities at the Center generate $1.15 billion in business activity and $387 million in labor income.