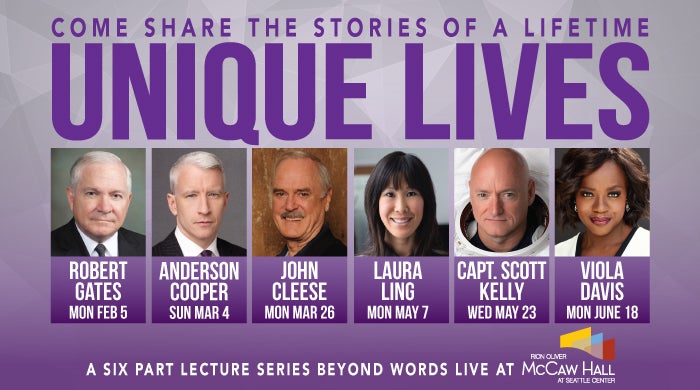 COME SHARE THE STORIES OF A LIFETIME
COME SHARE THE STORIES OF A LIFETIME
AN INSPIRATIONAL SIX PART LECTURE SERIES IS COMING TO SEATTLE'S MCCAW HALL FEATURING CELEBRITIES VIOLA DAVIS, JOHN CLEESE & ANDERSON COOPER
Sep 25, 2017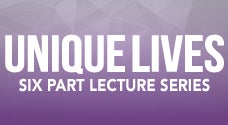 On sale today at www.uniquelives.com
SEATTLE: Today, Unique Lives & Experiences, a company specializing in promoting "live" lecture entertainment for the past 25 years, has expanded their tours to include Seattle. Unique Lives, a company based in Toronto, Canada, will be presenting six extraordinary key-note speakers at McCaw Hall. The focus at Unique Lives is to bring celebrity speakers with diverse opinions, profound insights and fascinating life stories. From world leaders to political figures and distinguished journalists to Hollywood Celebrities ….Unique Lives' goal is to showcase inspirational stories with a unique perspective. This is a lecture series beyond words. The inaugural season will feature:
ROBERT GATES – 22ND United States Secretary of Defense on Monday, February 5, 2018
ANDERSON COOPER - CNN News Anchor on Sunday, March 4, 2018
JOHN CLEESE – Co-creator of Monty Python on Monday, March 26, 2018
LAURA LING – Journalist freed from North Korean Prison on Monday, May 7, 2018
SCOTT KELLY – Former Commander of the International Space Station on Wednesday, May 23, 2018
VIOLA DAVIS – 2017 Best Support Actress Oscar winner for "Fences" on Monday, June 18, 2018
Series Tickets go on sale to the general public on September 25, 2018.
For tickets contact www.uniquelives.com or call 1-844-827-8118
VIP tickets to meet the guest speaker also available.
About Marion Oliver McCaw Hall
Part of Seattle Center and home to the internationally acclaimed Seattle Opera and Pacific Northwest Ballet, McCaw Hall is a state-of-the-art performing art center and premier special event venue. Each year McCaw Hall hosts over 300 events in the Susan Brotman Auditorium, Nesholm Family Lecture Hall and an attractive range of lobby and reception spaces. www.mccawhall.com
About Seattle Center
Connect to the extraordinary at Seattle Center, an active civic, arts and family gathering place in the core of our region. More than 30 cultural, educational, sports and entertainment organizations that reside on the grounds, together with a broad range of public and community programs, create thousands of events on the 74-acre campus and attract over 12 million visitors each year. At Seattle Center, our purpose is to create exceptional events, experiences and environments that delight and inspire the human spirit to build stronger communities. Activities at the Center generate $1.15 billion in business activity and $387 million in labor income.