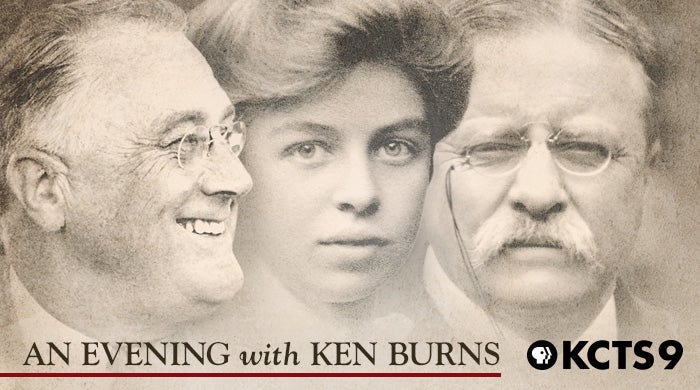 KCTS 9 HOSTS "AN EVENING WITH KEN BURNS" SEPTEMBER 3
KCTS 9 HOSTS "AN EVENING WITH KEN BURNS" SEPTEMBER 3
EVENT INCLUDES PREVIEW OF THE ROOSEVELTS: AN INTIMATE HISTORY AND AN ONSTAGE INTERVIEW
Jul 17, 2014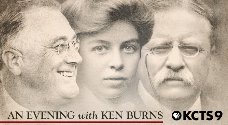 SEATTLE—KCTS 9 is proud to host an event with acclaimed documentarian Ken Burns to celebrate the premiere of his new series The Roosevelts: An Intimate History on PBS nationwide. Don't miss a chance to see a sneak preview of the new seven-part, 14-hour documentary and an onstage conversation with the legendary filmmaker, moderated by author and journalist Tim Egan. "An Evening with Ken Burns" takes place Wednesday, September 3 at 7:00 pm at Marion Oliver McCaw Hall at Seattle Center, 321 Mercer Street, Seattle.
The Roosevelts: An Intimate History premieres September 14 at 8:00 pm on KCTS 9. The film weaves the stories of Theodore, Franklin and Eleanor Roosevelt, three members of one of the most prominent and influential families in American politics. The series marks the first time their individual stories have been woven into a single narrative.
Legendary actress Meryl Streep portrays Eleanor Roosevelt in readings from her personal letters and writings. Of her performance, Burns has said, "As we've seen time and time again, Ms. Streep is a magician. Here, she completely transformed herself into Eleanor Roosevelt, simply through her voice. It was remarkable to witness. The entire cast delivers what I consider to be some of the finest voice-over work we've ever been fortunate enough to present."
Joining Streep are Paul Giamatti as the voice of Theodore Roosevelt and Edward Herrmann, two-time Emmy Award nominee for his performance as Franklin Roosevelt, as the voice of FDR. Rounding out the cast are Patricia Clarkson, Adam Arkin, Philip Bosco, Keith Carradine, Kevin Conway, Ed Harris, John Lithgow, Josh Lucas, Carl Lumbly, Amy Madigan, Carolyn McCormick, Pamela Reed, Billy Bob Thornton and Eli Wallach.
THE ROOSEVELTS follows the family's story for more than a century, from Theodore's birth in 1858 to Eleanor's death in 1962. Over the course of those years, Theodore would become the 26th president of the United States, and his beloved niece, Eleanor, would marry his fifth cousin, Franklin, who became the 32nd president. Together, they redefined the relationship Americans had with their government and with each other, and redefined, as well, the role of the United States within the wider world.
The Roosevelts: An Intimate History premieres September 14, 8:00 pm on KCTS 9, with new episodes every night at 8:00 p.m. through September 20.
# # #
About Ken Burns
Ken Burns has been making films for more than 30 years. Since the Academy Award-nominated Brooklyn Bridge in 1981, Ken has gone on to direct and produce some of the most acclaimed historical documentaries ever made. The late historian Stephen Ambrose said of his films, "More Americans get their history from Ken Burns than any other source." A December 2002 poll conducted by Real Screen Magazine listed The Civil War as second only to Robert Flaherty's Nanook of the North as the "most influential documentary of all time," and named Ken Burns and Robert Flaherty as the "most influential documentary makers" of all time. Burns was also the director, producer, co-writer, chief cinematographer, music director and executive producer of the landmark television series The Civil War. This film was the highest- rated series in the history of American public television and attracted an audience of 40 million during its premiere in September 1990. The New York Times called it a masterpiece and said that Ken Burns "takes his place as the most accomplished documentary filmmaker of his generation." The series has been honored with more than 40 major film and television awards, including two Emmy Awards, two Grammy Awards, Producer of the Year Award from the Producer's Guild, People's Choice Award, Peabody Award, duPont-Columbia Award, D.W. Griffith Award and the $50,000 Lincoln Prize, among dozens of others.
About KCTS 9
KCTS 9 brings quality public television programming to more than 2.5 million viewers each week in Western and Central Washington State, British Columbia and across Canada. To watch or learn more about any of our programs, visit KCTS9.org.
About Marion Oliver McCaw Hall
Part of Seattle Center and home to the internationally acclaimed Seattle Opera and Pacific Northwest Ballet, McCaw Hall is a state-of-the-art performing art center and premier special event venue. Each year McCaw Hall hosts over 300 events in the Susan Brotman Auditorium, Nesholm Family Lecture Hall and an attractive range of lobby and reception spaces.
About Seattle Center
Since its beginning 50 years ago, Seattle Center has served as an arts, civic and family gathering place in the core of our region. The more than 30 cultural, educational, sports and entertainment organizations residing on the 74-acre campus, together with a broad range of public and community programs, create nearly 5,000 events attracting 12 million visitors each year. At Seattle Center, our purpose is to create exceptional events, experiences and environments that delight and inspire the human spirit to build stronger communities. Activities at the Center generate $1.15 billion in business activity and $387 million in labor income.