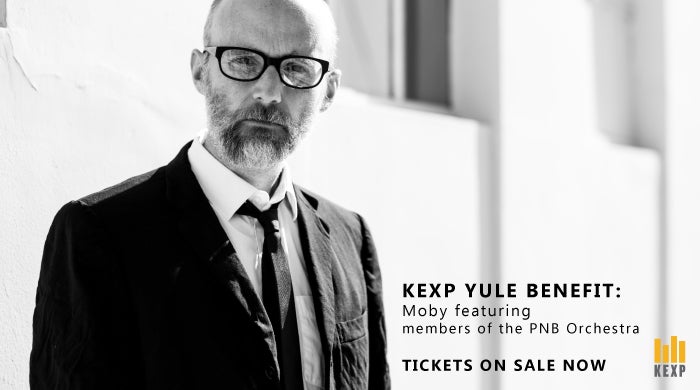 KEXP Yule Benefit 2018: Moby with members of the Pacific Northwest Ballet Orchestra, December 6th at McCaw Hall
KEXP Yule Benefit 2018: Moby with members of the Pacific Northwest Ballet Orchestra, December 6th at McCaw Hall
Nov 2, 2018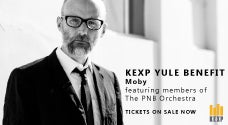 SEATTLE, November 2, 2018: On Thursday, December 6th at McCaw Hall, KEXP welcomes musician and activist Moby, who will showcase the breadth of his career with an orchestral performance, featuring his many hits, accompanied by members of the Pacific Northwest Ballet Orchestra, with Emil de Cou conducting. This unique performance is presented as KEXP's annual Yule Benefit concert, with proceeds benefiting the Seattle-based nonprofit broadcaster and arts organization.
The performance at Seattle Center's McCaw Hall is Moby's second-ever performance with a full orchestra, and currently no other performances of this kind are scheduled. The only previous performance of this kind took place October, with the artist performing alongside the LA Philharmonic Orchestra and a gospel choir at Walt Disney Concert Hall in Los Angeles. That show sold out within days of being announced. Full orchestral arrangements for songs spanning Moby's career have been created, and he will appear at this performance with members of the Pacific Northwest Ballet Orchestra, conductor Emil de Cou, and special guest vocalists.
"I really love familiar songs and hits," said Moby, describing the process he went through to determine which songs to feature for this performance. "I tried to take my better-known songs and orchestrate them."
"I've been a fan and supporter of Moby's music for years," said KEXP Chief Content Officer Kevin Cole. "It's truly an honor to host this unique performance by an artist whose work has inspired millions. It's thrilling to imagine how his songs will be interpreted by members of our Pacific Northwest Ballet Orchestra. And all to benefit KEXP! For music lovers and supporters of KEXP, this is an experience that cannot be missed."
"It seemed like a musical dream that would always remain a dream," said Moby. "I never thought I would actually be able to perform with an orchestra. That's why I'm excited to do the KEXP show in Seattle."
###
About KEXP
KEXP is a music-focused nonprofit arts organization serving music lovers and artists through in-person, broadcast, and online music programming. KEXP operates one of the most influential listener-supported music radio stations in the country, KEXP-FM, Seattle. More than 230,000 listeners from around the world tune in to the station each week over the air and online. On KEXP's YouTube channel, videos of exclusive in-studio performances garner more than 3.5 million views per week. KEXP produces hundreds of live performances and music events each year, many of which are open to public audiences at no charge. More information at kexp.org.