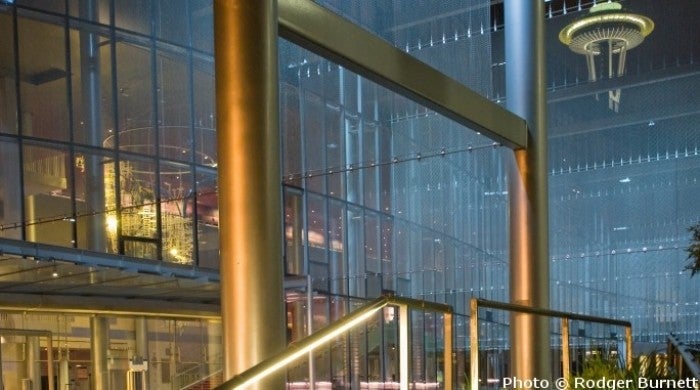 Marion Oliver McCaw Hall at Seattle Center Celebrates its 10th Anniversary
Marion Oliver McCaw Hall at Seattle Center Celebrates its 10th Anniversary
May 28, 2013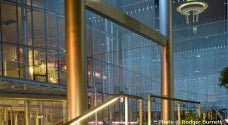 Marion Oliver McCaw Hall at Seattle Center, home to Pacific Northwest Ballet and Seattle Opera, celebrates its 10th anniversary this month, following a impressive first decade in which it has hosted a broad spectrum of performing arts, entertainment, corporate, and private functions, earning its spot as the region's most spectacular performance and events venue.
Operated by Seattle Center, McCaw Hall opened its doors with an Opening Night Celebration Gala on June 28, 2003, followed by a public open house on June 29 that welcomed over 30,000 guests. The renovated facility contains the 2,900-seat Susan Brotman Auditorium, 381-seat Nesholm Family Lecture Hall, Allen Foundation for the Arts Room, Norcliffe Room, Kreielsheimer Promenade Lobby, Neukom Family Second Tier Lobby and a variety of other gathering spaces. Since 2003, l the building has welcomed over 4 million patrons and hosted over 5,000 public, private and cultural events including 1,070 Pacific Northwest Ballet and 540 Seattle Opera mainstage performances, an Audi Car Show, Starbucks Annual Meetings, Bill Clinton, Conan O'Brien, Dave Matthews, Janet Jackson, Michael Bublé, Nora Jones, Olivia Newton-John, Bill Maher, B.B. King, Melissa Etheridge, REM, Train, Hal Holbrook's Mark Twain, Dr. Stephen Hawking, Warren Miller films, Bumbershoot artists, Seattle International Film Festival, Seattle Men's Chorus, high school proms, graduations, weddings, auctions and many more events.
McCaw Hall gross ticket revenue topped $200 million over the past ten years. This number includes gross ticket revenue from the Pacific Northwest Ballet, Seattle Opera and all other ticketed events. Ticket revenue coupled with venue rentals and ancillary revenues for the hall has positioned it to maintain a yearly balanced budget and over 1 million dollars in reserve used for maintenance and improvements to the hall and its infrastructure. The reserve helps maintain the hall in state-of-the-art condition for all events.
"We celebrate the Pacific Northwest Ballet, Seattle Opera and hard working Seattle Center staff as well as the clients and the patrons who have supported McCaw Hall over the past ten years, and we look forward to continuing to delight and inspire visitors to McCaw Hall far into the future. The venue is vital to the success and vibrancy of Seattle Center, and we are proud of its many achievements." said Seattle Center Director Robert Nellams.
As the region's premier performing arts venue, McCaw Hall plays an important role as an economic driver for Seattle Center and surrounding neighborhoods and a source for outstanding popular and classical entertainment. Supported by a staff that places high value on customer service, McCaw Hall contributes to the thriving entertainment and events ecosystem of Seattle Center and the vibrancy of Seattle's cultural and entertainment sectors.
McCaw Hall's history dates back as far as 1881 when early Seattle pioneers envisioned the site for a 'civic center' of the community. Saloonkeeper James Osborne left his will of $20,000 to the cause, and in 1889 Seattle pioneers David and Louisa Denny donated the land for 'public use forever.' The Civic Auditorium was built in 1928, then dubbed "The House that Suds Built." For the 1962 World's Fair, the Auditorium became the Seattle Opera House. In 2003, with the help of private and public funds and the 1999 passage of Seattle Proposition I, the region's premier performance hall opened as Marion Oliver McCaw Hall at Seattle Center.
Ten Years by the Numbers:
McCaw Hall has hosted over 4,043,303 patrons since June 28, 2003
McCaw Hall has hosted over 5,677 events since June 28, 2003
McCaw Hall has hosted 192 ticketed events which include concerts, performing arts shows and lectures (not including Pacific Northwest Ballet and Opera performances)
More than 19,908 friends, family and local graduates have attended a graduation at McCaw Hall
McCaw Hall has hosted an event, meeting or other activity 3,215 days out of 3,653 days, or 88% of the past 10 years
Seattle Opera celebrates its 50th Anniversary during their 2013-2014 season
Pacific Northwest Ballet celebrated its 40th Anniversary during their 2012-2013 season
Pacific Northwest Ballet's Nutcracker celebrates its 30th Anniversary this November
About Marion Oliver McCaw Hall
Part of Seattle Center and home to the internationally acclaimed Seattle Opera and Pacific Northwest Ballet, McCaw Hall is a state-of-the-art performing art center and premier special event venue. Each year McCaw Hall hosts over 300 events in the Susan Brotman Auditorium, Nesholm Family Lecture Hall and an attractive range of lobby and reception spaces.
About Seattle Center
Since its beginning 50 years ago, Seattle Center has served as an arts, civic and family gathering place in the core of our region. The more than 30 cultural, educational, sports and entertainment organizations residing on the 74-acre campus, together with a broad range of public and community programs, create nearly 5,000 events attracting 12 million visitors each year. At Seattle Center, our purpose is to create exceptional events, experiences and environments that delight and inspire the human spirit to build stronger communities. Activities at the Center generate $1.15 billion in business activity and $387 million in labor income