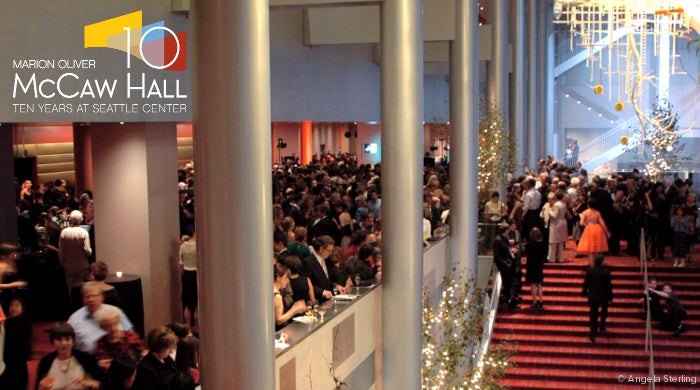 McCaw Hall 10th Anniversary Day of Celebration Offers Entertainment-Packed Afternoon
McCaw Hall 10th Anniversary Day of Celebration Offers Entertainment-Packed Afternoon
Oct 10, 2013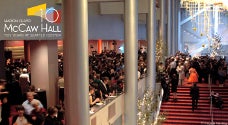 Join in a free Day of Celebration marking the 10-year anniversary of Marion Oliver McCaw Hall, 11 a.m. – 4 p.m., Sunday, Oct. 27, at McCaw Hall. The entertainment-packed anniversary event features activities for every member of the family including live dance, music, and circus performances, video presentations, and opportunities to participate in the show on three stages throughout McCaw Hall.
An impromptu Community Chorus invites vocalists and those who just love to sing to come together the day of the celebration and perform live on the mainstage under the direction of noted choral director Eric Lane Barnes of Seattle Men's and Women's Choruses. He will rehearse volunteer singers at 2 p.m. and lead them in performance at 3:30 p.m.
Spotlight on [Your Name Here] offers community members a chance to show the world their secret talents, 12:30 p.m. to 2:30 p.m., on the McCaw Hall mainstage. The Spotlight, hosted by the legendary Pat Cashman, seeks music, theatre, dance, comedy, and physical stunts by solo performers, duos, or small groups. Participants must register in advance for their five-minute slots at: www.mccawhall.com/events/detail/day-of-celebration.
The following will provide additional entertainment at the Day of Celebration:
• Pacific Northwest Ballet
• Seattle Opera
• Cornish Latin Ensemble
• Filipino Drill Team
• 3rd Shift Dance
• Relay Dance Collective
• SANCA – acrobatics and new circus arts
• Baladores de Bronce – Mexican folkloric dance
• Eduardo Mendonça and ShowBrazil! – Brazilian dance and drumming
• Maritess Zurbano, Hypnotist
• Jacque Larrainzar, Guitarist
• Bonnie Birch and Anna Witte, French singer and accordion
The reimagining of the building 10 years ago propelled a 73-year-old facility into the 21st Century. The $127 million refurbishment saved about 30 percent of the original building, improved auditorium sight lines and added a five-story Grand Lobby, state-of-the-art backstage technology, a new 381-seat Lecture Hall, and a fine dining cafe, called Prelude. The renovation replaced mechanical systems dating back to 1928 and added 55 women's restroom stalls, bringing the Hall's total to 90.
Over the past 10 years, McCaw Hall has earned an outstanding reputation as the region's premier performance and events venue. Home to Pacific Northwest Ballet and Seattle Opera, the hall has welcomed over 4 million visitors to 5,000-plus cultural, community, corporate and private events. The facility, managed by Seattle Center, houses two state-of-the-art auditoriums, a five-story Grand Lobby and several well-appointed meetings spaces.
The Day of Celebration provides the community an opportunity to enjoy McCaw Hall and engage in activities that highlight the building's remarkable attributes. For more information about the McCaw Hall 10th Anniversary Day of Celebration, visit www.mccawhall.com and for information on this and other Seattle Center events and activities, click on www.seattlecenter.com or call 206 684-7200.
About Marion Oliver McCaw Hall
Marion Oliver McCaw Hall at Seattle Center, home to Seattle Opera and Pacific Northwest Ballet, honors its 10th Anniversary in 2013. The region's premier entertainment and events venue offers two state-of-the-art auditoriums, a five story-Grand Lobby, spacious meeting spaces and a fine dining café. McCaw Hall helps Seattle Center to fulfill its greater community purpose. The 10-year anniversary is supported in part by Pacific Northwest Ballet, Seattle Opera, Theatre Puget Sound, Encore Media Group, KCTS 9, SAVOR, Starbucks, Coca-Cola, Seattle Center Foundation and the City of Seattle.
About Seattle Center
Seattle Center serves as an extraordinary arts, civic and family gathering place in the core of our region. The more than 30 cultural, educational, sports and entertainment organizations residing on the 74-acre campus, together with a broad range of public and community programs, offer nearly 5,000 events attracting 12 million visitors each year. At Seattle Center, our purpose is to create exceptional events, experiences and environments that delight and inspire the human spirit to build stronger communities. Activities at the Center generate $1.15 billion in business activity and $387 million in labor income.