McCaw Hall at Seattle Center Welcomes 4 Millionth Visitor
Apr 24, 2013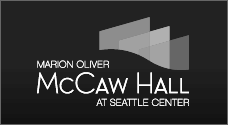 Marion Oliver McCaw Hall at Seattle Center reached a significant milestone this past week as it entertained its 4 millionth visitor during the 1 p.m. performance on April 20 of Pacific Northwest Ballet's Swan Lake. The milestone includes all visitors to McCaw Hall starting with the opening reception of the Hall on June 25, 2003.
The region's premier performing arts venue, serving over 400,00 visitors each year, plays an important role as an economic driver for Seattle Center and surrounding neighborhoods and a source for outstanding popular and classical entertainment. Supported by a staff that places high value on customer service, McCaw Hall contributes to the thriving entertainment and events ecosystem of Seattle Center and the vibrancy of Seattle's cultural and entertainment sectors.
Home to the Seattle Opera and Pacific Northwest Ballet, the venue also offers outstanding facilities for public and private events such as concerts, comedy shows, lectures, meetings, weddings, receptions and special events, providing a broad spectrum of events to diverse audiences. McCaw Hall just finished a run of 26 public and private events in April (including 10 performances of Swan Lake), attended by over 31,000 guests, marking one of the busiest Aprils in the building's history.
"We are excited and proud to have welcomed over 4 million visitors to McCaw Hall in the same year we celebrate the Hall's 10th Anniversary. It is a true testament to our staff and partners that so many delighted patrons have walked through our doors," said Seattle Center Director, Robert Nellams.
Upcoming events at McCaw Hall:
• Northwest Girlchoir Spring Fling: The Top 40 - April 26
• Seattle Opera's La Voix Humaine & Suor Angelica - May 4 - 18
• Seattle International Film Festival's Opening Night Gala Film Screening - May 16
• The ARC of King County 6th Annual "Living Our Legacy" Luncheon - May 23
• Pacific Northwest Ballet's Christopher Wheeldon ON STAGE - May 29
• Pacific Northwest Ballet's Director's Choice – May 31 - June 9
• Pacific Northwest Ballet's Season Encore Performance - June 9
• Pacific Northwest Ballet's 32nd Annual School Performance - Jun 15
• Seattle Opera's Make Some Noise! Ring Open House – Aug. 3 free entry
• Seattle Opera's The Ring: Das Rheingold – Aug. 4 - 20
• Seattle Opera's The Ring: Die Walküre – Aug. 5 - 21
• Seattle Opera's The Ring: Siegfried – Aug. 7 - 23
• Seattle Opera's The Ring: Götterdämmerung – Aug. 9 - 25
• The Dream of the Golden Clown, Sept. 20-21
About Seattle Center
Since its beginning 50 years ago, Seattle Center has served as an arts, civic and family gathering place in the core of our region. The more than 30 cultural, educational, sports and entertainment organizations residing on the 74-acre campus, together with a broad range of public and community programs, create nearly 5,000 events attracting 12 million visitors each year. At Seattle Center, our purpose is to create exceptional events, experiences and environments that delight and inspire the human spirit and build stronger communities. Activities at the Center generate $1.15 billion in business activity and $387 million in labor income.