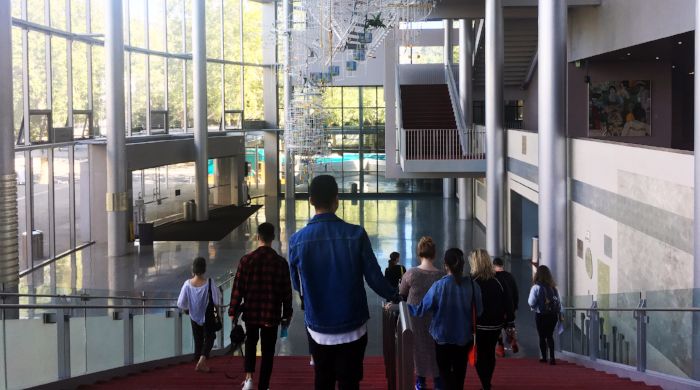 McCaw Hall Partners with The Art Institute of Seattle
McCaw Hall Partners with The Art Institute of Seattle
to Redesign Guest Services Apparel
Jul 26, 2017
THE ART INSTITUTE OF SEATTLE & McCAW HALL ANNOUNCE
NEW GUEST SERVICE APPAREL DESIGN PROJECT

Students' final project for Advanced Fashion Illustration will design new guest service uniforms for McCaw Hall staff.
SEATTLE – The Art Institute of Seattle (Ai Seattle) and Marion Oliver McCaw Hall announce an exciting student competition and final project to redesign the guest services uniforms worn by staff during performances and events at McCaw Hall. The design concepts for the new uniforms will be the students' final project in the Advanced Fashion Illustration course taught by Lori Meyer this quarter. Over the next 10 weeks, advanced design students studying at Ai Seattle will go through the complete design process from initial sketches to final technical packages ready for garment manufacturing.
Throughout the course, students will receive additional guidance from Heidi Zamora, Seattle Opera's Costume Show Manager. All students in the class will be participating in this final project, and at the midpoint of the class, three top designs will be chosen by McCaw Hall and Ai Seattle staff. From those designs, a winning concept will be selected. The winning student designer will be awarded a $4,000 scholarship provided by McCaw Hall, and have her or his design go into production and debut late fall 2017.
This final project was envisioned to give students at Ai Seattle real-world project experience and to provide the staff at McCaw Hall with a more modern aesthetic. Designers will be asked to accommodate both male and female apparel, and have the unique tasks of designing and choosing formal and casual pieces that will complement the variety of events McCaw Hall hosts: opera and ballet performances, trade shows, rock concerts, comedy and everything in between.
Scott Carnz the Dean of Academic Affairs at The Art Institute of Seattle said "We are so excited to partner with McCaw Hall on this project. We are always looking for real-world opportunities for our students to put their skills to the test. McCaw's needs provide a unique client experience for our students that will test their abilities to meet the diverse needs of an arts organization and while seeing an actual project through from beginning to end. This type of experience is at the heart of The Art Institute's mission to prepare students for professional practice, as well as being an engaged and contributing member of Seattle's arts community."
Marion Oliver McCaw Hall at Seattle Center is the home to the Pacific Northwest Ballet and the Seattle Opera as well as many other concerts and events. The venue hosts hundreds of thousands of patrons and guests at over 320 events annually. Currently guest service staff are outfitted with a uni-sex tuxedo uniform that has not changed since the building opened in 2003.
Joe Paganelli, McCaw Hall's General Manager noted, "We are thrilled to partner with The Art Institute of Seattle for this unique opportunity. We could have put our uniforms out to bid when we decided to refresh our staff's look, but thanks to support from Aidan Lang and Ellen Walker, Seattle Opera and Pacific Northwest Ballet's respective Executive Directors, we will engage and challenge our community to take the journey with us…."
McCaw Hall and The Art Institute of Seattle will be posting student progress and the process throughout the challenge.
Follow along on Facebook, Twitter and Instagram to see the students' design journey using #McCawHallChallenge.
###
The Art Institute of Seattle
The Art Institute of Seattle is one of The Art Institutes, a system of schools throughout the United States. Programs, credential levels, technology, and scheduling options vary by school and are subject to change. Not all online programs are available to residents of all U.S. states. Several institutions included in The Art Institutes system are campuses of Argosy University. The Art Institute of Seattle 2323 Elliott Avenue Seattle, CA 98121© 2017 The Art Institutes. All rights reserved. Our email address is materialsreview@aii.edu.
About Marion Oliver McCaw Hall
Part of Seattle Center and home to the internationally acclaimed Seattle Opera and Pacific Northwest Ballet, McCaw Hall is a state-of-the-art performing art center and premier special event venue. Each year McCaw Hall hosts over 300 events in the Susan Brotman Auditorium, Nesholm Family Lecture Hall and an attractive range of lobby and reception spaces. www.mccawhall.com
About Seattle Center
Connect to the extraordinary at Seattle Center, an active civic, arts and family gathering place in the core of our region. More than 30 cultural, educational, sports and entertainment organizations that reside on the grounds, together with a broad range of public and community programs, create thousands of events on the 74-acre campus and attract over 12 million visitors each year. At Seattle Center, our purpose is to create exceptional events, experiences and environments that delight and inspire the human spirit to build stronger communities. Activities at the Center generate $1.15 billion in business activity and $387 million in labor income.
Media Contacts:
Rosie Selle, AEG Facilities at McCaw Hall
(206) 428-6306 or rselle@aegworldwide.com
Sam King, The Art Institute of Seattle
(206) 239-2234 or sjking@aii.edu