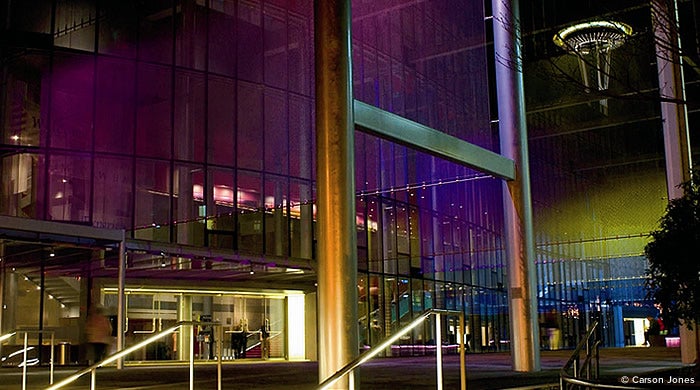 Marion Oliver McCaw Hall at night
McCaw Hall Unveils New Website
Aug 29, 2012
Marion Oliver McCaw Hall at Seattle Center announced today the launch of a website exclusively dedicated to McCaw Hall, www.McCawHall.com. Designed as a full service portal for patrons, clients and venue visitors, the website is set in a backdrop of the light- filled art installation Dreaming in Color by Leni Schwendinger and features the iconic Space Needle gleaming behind the art's metal mesh scrims.
"We had two main goals in the design of the first ever website for McCaw Hall, to interact with the viewer in an informative, entertaining way that improves their ticket purchasing experience and to build a client- friendly interface that allows an event to be planned that takes advantage of all McCaw Hall has to offer," stated Chris Miller, General Manager at McCaw Hall.
www.McCawHall.com is on the forefront of the industry with its intimate website design, amenities and special features including:
Mobile website integration
Interactive seating charts
Social media Integration allowing visitors to engage with the events through their social profiles
Interactive directories
Add event to calendar functionality
Virtual tours and photo galleries
Downloadable floor plans and technical specifications for event planners
Contesting system to allowing visitors to interact through giveaways and promotions
Easy-to-use navigation and compatibility with the latest web browsers and mobile devices
"We are proud to be involved in the design and development of the new website for McCaw Hall and to be working with Seattle Center to launch a website that represents both the beauty of the performance hall and the quality of its programs. The new website spotlights McCaw Hall as the region's premier performing arts destination," said James Sack, President, Carbonhouse, Inc.
McCaw Hall has already hosted several successful ballet and opera productions in 2012 including: the American premiere of Alexei Ratmansky's Don Quixote starring Tom Skerritt and Puccini's Madama Butterfly where the Seattle Opera, for the first time ever, produced a simulcast of the opening night at nearby KeyArena. With pop concerts like Straight No Chaser, Celtic Thunder andSeattle Men's Chorus, McCaw Hall is set to have a vibrant, event-filled 2012. The facility looks to use the new website to provide clients with a dynamic platform to showcase their eventsand grow the number and diversity of activities held at the Hall.
The new McCaw Hall website and mobile application were created by Carbonhouse, an industry leading web design firm specializing in website creation and integration for venues, performing arts centers and entertainment related businesses across the United States.
About Marion Oliver McCaw Hall
Part of Seattle Center and home to the internationally acclaimed Seattle Opera and Pacific Northwest Ballet, McCaw Hall is a state-of-the-art performing art center and premier special event venue . Each year McCaw Hall hosts over 300 events in the Susan Brotman Auditorium, Nesholm Family Lecture Hall and an attractive range of lobby and reception spaces.
About Seattle Center
Since its beginning 50 years ago, Seattle Center has served as a cultural and civic gathering place at the core of our region. In 2012, The Next Fifty at Seattle Center celebrates the 50th anniversary of the 1962 World's Fair and the physical legacy it left. The 74-acre Seattle Center campus exists to delight and inspire the human spirit in each person and bring together our rich and varied community. The 12 million visits to Seattle Center each year generate $1.15 billion in business activity and $387 million in labor income for King County.
Next 50 premier partners include: Bartell Drugs, Bill & Melinda Gates Foundation, Coca-Cola, Grousemont Foundation, Microsoft, Samsung, Seattle Center Monorail, T-Mobile, TPN (The Production Network) and World Vision. Funding and participating partners include: 206 Inc., 4Culture, City of Seattle, Global Health Nexus, Hill & Knowlton Strategies, KOMO 4 TV, KUOW 94.9 Public Radio, One to the World, Safeco Insurance: A Liberty Mutual Company, Seattle Office of Arts & Cultural Affairs, Sheraton Seattle Hotel and Washington Economic Development Commission.