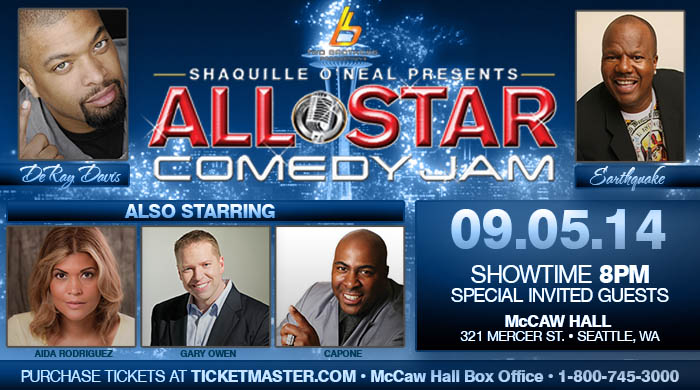 SHAQ ENTERTAINMENT PRESENTS THE SHAQUILLE O'NEAL ALL STAR COMEDY JAM
SHAQ ENTERTAINMENT PRESENTS THE SHAQUILLE O'NEAL ALL STAR COMEDY JAM
SEPTEMBER 5 AT MCCAW HALL
Jul 23, 2014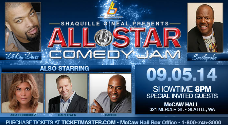 Shaquille O'Neal and Jeff Clanagan, through their company, Shaq Entertainment, in association with Jordan Babineaux and Two Brothers Productions, announce The Shaquille O'Neal All Star Comedy Jam Friday, September 5 at McCaw Hall.
3 years ago, Shaquille O'Neal took ALL STAR COMEDY JAM on the road after his NBA All-star Weekend show in Los Angeles became such a hit. Playing to sold out crowds across the country, covering over 30 markets, proved that the ALL STAR COMEDY JAM tour was just what audiences wanted. Industry buzz and audience feedback is a solid indication that Shaquille O'Neal's ALL STAR COMEDY JAM is becoming today's top comedy brand, much like "The Original Kings of Comedy" and "Def Comedy Jam" were in the '90s.
Currently the most successful urban stand-up comedy franchise in the market, Shaq's All Star Comedy Jam stops in the Pacific Northwest for the first time at McCaw Hall, to help celebrate the defending Champion Seattle Seahawks kickoff of their season. A portion of the proceeds benefits Communities In Schools Renton. CIS Renton works with public schools to surround young people with a community of support to empower them to stay in school and achieve in life.
Having some of the biggest names in comedy, the ALL STAR COMEDY JAM line-up will include: Host Earthquake "From Everybody Hates Chris", Gary Owen, fresh off his co-starring role in the blockbuster hit "Think Like A Man", Capone, known as "The Gansta of Comedy," DeRay Davis, known as "The Comedians Comedian," and Last Comic Standing Finalist Aida Rodriguez. There will also be special surprise guests in the audience.
ALL STAR COMEDY JAM was Shaq's first new venture following his retirement from the NBA. With Codeblack Enterprises as the producing and distribution partner for the filmed projects, the ALL STAR COMEDY JAM brand has showcased many of the top urban comedians in the country and has spawned 5 highly popular 1-hour television specials. These specials have aired annually since 2009 and has become one the highest-rated comedy specials on cable. The first three television specials have been seen by over 3 million viewers and one very special event, taped during the 2011 NBA All-Star Weekend in Los Angeles, Kevin Hart's "Laugh At My Pain," was filmed for theatrical release that same year and opened #1 at the box office.
Together, Shaq Entertainment and Codeblack Enterprises have worked strategically to build the ALL STAR COMEDY JAM brand through their filmed specials, highly successful DVD series and live shows with AEG Live. Codeblack Enterprises, a leading company in urban entertainment and distribution, is responsible for producing and distributing the brands filmed specials through television, online and DVD.
Twitter: @2bropro
Facebook: 2brothersproductions
############
About Marion Oliver McCaw Hall
Part of Seattle Center and home to the internationally acclaimed Seattle Opera and Pacific Northwest Ballet, McCaw Hall is a state-of-the-art performing art center and premier special event venue. Each year McCaw Hall hosts over 300 events in the Susan Brotman Auditorium, Nesholm Family Lecture Hall and an attractive range of lobby and reception spaces.
About Seattle Center
Since its beginning 50 years ago, Seattle Center has served as an arts, civic and family gathering place in the core of our region. The more than 30 cultural, educational, sports and entertainment organizations residing on the 74-acre campus, together with a broad range of public and community programs, create nearly 5,000 events attracting 12 million visitors each year. At Seattle Center, our purpose is to create exceptional events, experiences and environments that delight and inspire the human spirit to build stronger communities. Activities at the Center generate $1.15 billion in business activity and $387 million in labor income.