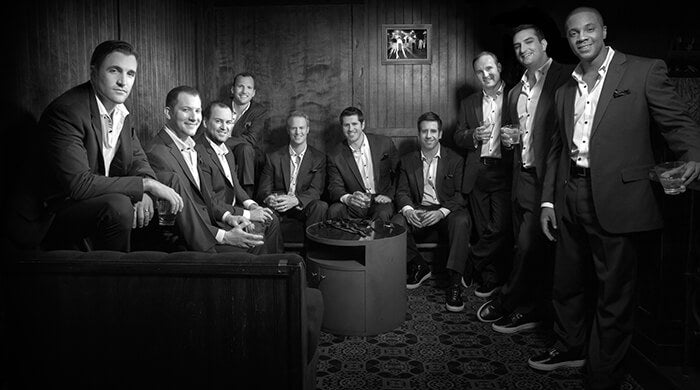 STRAIGHT NO CHASER UNVEIL "THE NEW OLD FASHIONED" ALBUM AND TOUR INCLUDING A STOP AT MCCAW HALL ON DECEMBER 31
STRAIGHT NO CHASER UNVEIL "THE NEW OLD FASHIONED" ALBUM AND TOUR INCLUDING A STOP AT MCCAW HALL ON DECEMBER 31
May 7, 2015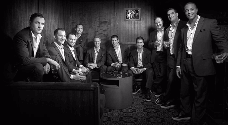 STRAIGHT NO CHASER UNVEIL "THE NEW OLD FASHIONED" ALBUM AND TOUR INCLUDING
A STOP AT MCCAW HALL ON DECEMBER 31
WORLD RENOWNED A CAPPELLA GROUP ANNOUNCES FIFTH FULL-LENGTH RELEASE
EXCLUSIVE FAN PRE-SALE SLATED FOR MAY 11TH-MAY 14TH,
FEATURING TWO INSTANT GRAT DOWNLOADS:
"BEGGIN'/COUNTING STARS" AND BOB DYLAN'S "MAKE YOU FEEL MY LOVE"
"THE NEW OLD FASHIONED TOUR" BEGINS OCTOBER 16TH IN LAS VEGAS
TICKET PRE-SALE BEGINS MAY 11TH WITH GENERAL ON-SALE BEGINNING MAY 15TH
HOOSIER STATE NATIVES TO KICK OFF 2015 INDIANAPOLIS 500 ON MAY 24TH
WITH MUCH ANTICIPATED PERFORMANCE OF "(BACK HOME AGAIN IN) INDIANA"
OFFICIAL iTUNES ALBUM PRE-SALE SLATED FOR THIS SUMMER
"THE NEW OLD FASHIONED" ARRIVES IN OCTOBER
Who: Straight No Chaser
Where: Marion Oliver McCaw Hall
When: December 31, 2015
Tickets: Tickets can be purchased starting Friday, May 15 at 10:00 am at the Box Office located on the west plaza of KeyArena, Ticketmaster outlets, Ticketmaster.com, or charge by phone toll free at (800) 745-3000. All tickets subject to applicable service charges and fees.
What: Atlantic Records recording group Straight No Chaser has announced the release of their much-anticipated new album as well as details of a major North American tour - including a stop at McCaw Hall on December 31. "THE NEW OLD FASHIONED" – the world famous a cappella group's fifth full-length release – arrives this October.
"THE NEW OLD FASHIONED" will be available for pre-order exclusively to fans that purchase tickets to "The New Old Fashioned Tour" from Monday, May 11th though Thursday, May 14th; an official iTunes Store pre-sale is scheduled for later this summer. Fans ordering now will receive two album highlights as instant grat downloads, including the medley "Beggin'/Counting Stars" (Frankie Valli and the Four Seasons and One Republic) and a stellar take on Bob Dylan's "Make You Feel My Love."
Straight No Chaser will celebrate the album's release with what will be their biggest headline tour to date. "The New Old Fashioned Tour" sets off on October 16th in Las Vegas at the MGM Casino's David Copperfield Theatre and then continues into 2016, concluding with 2 dates in Hawaii (Honolulu and Maui) to ring in the New Year (see attached itinerary). Pre-sale tickets will be available to members of Straight No Chaser's official fan club beginning on Monday, May 11th; all remaining tickets will go on sale to the general public on Friday, May 15th. Full details – including complete ticket information and as-yet-unannounced dates – can be found at www.sncmusic.com/tour.
"The New Old Fashioned Tour" follows Straight No Chaser's recently concluded "The Happy Hour Tour," an epic 2014/2015 world trek which saw the group perform over 67 shows in the US alone, as well as dates in more than 15 countries, including Germany, Denmark, Sweden, Finland, Czech Republic, Austria, Holland, Belgium, France, Switzerland, Ireland, and the United Kingdom for more than 200,000 paying fans.
Additionally, Straight No Chaser is set to take part in one of their home state of Indiana's greatest traditions, the singing of "(Back Home Again In) Indiana" prior to the start of the annual Indianapolis 500. The group – which was founded in 1996 at Indiana University Bloomington – will perform "(Back Home Again In) Indiana" during the pre-race festivities, taking on the honor following legendary entertainer Jim Nabors's 2014 retirement after having performed the song live 35 times since 1972. The Indianapolis 500 Pre-Race Show airs live on ABC on May 24th at 12 Noon ET (check local listings).
Straight No Chaser's fourth full-length release, 2013's "UNDER THE INFLUENCE" saw the renowned vocal group reimagining a selection of their all time favorite songs alongside many of the superstar artists and undisputed music icons that made them famous. Produced by Mark Kibble (a founding member of the legendary a cappella group Take 6 and one of Straight No Chaser's primary influences), the album included unprecedented collaborations with some of popular music's best and brightest – including Phil Collins, Stevie Wonder, Elton John, Dolly Parton, Rob Thomas, Seal, Sara Bareilles, and Jason Mraz – as Straight No Chaser put their distinctive and inimitable spin on songs known and loved the world over.
Long beloved for their trademark takes on Yuletide favorites, Straight No Chaser celebrated this past Christmas with a newly released version of their hit EP, "UNDER THE INFLUENCE: HOLIDAY EDITION" featuring "Text Me Merry Christmas (Feat. Kristen Bell)." Written by Emmy and GRAMMY® Award-winning writers David Javerbaum (The Daily Show) and Adam Schlesinger (Fountains of Wayne), the track proved an immediate holiday hit, garnering more than 1 million individual views in the 24 hours following its YouTube premiere (www.youtube.com/watch?v=EmhfdQlOiy0). Other highlights on "UNDER THE INFLUENCE: HOLIDAY EDITION" include renditions of "White Christmas (Feat. Cee Lo Green)," "Merry Christmas Baby (Feat. Otis Redding)," and a timeless rendition of Paul McCartney's classic "Wonderful Christmastime" that featured vocals by McCartney himself.
For more, please visit www.sncmusic.com, www.facebook.com/StraightNoChaser, twitter.com/SNCmusic, and www.youtube.com/sncmusic.
STRAIGHT NO CHASER
THE NEW OLD FASHIONED TOUR 2015
OCTOBER
16 Las Vegas, NV MGM
17 Las Vegas, NV MGM-TWO SHOWS
18 Tucson, AZ Fox Theatre
20 Salt Lake City, UT Capitol Theater
21 Missoula, MT Dennison Theatre
22 Yakima, WA Capitol Theatre
23 Eugene, OR McDonald Theatre
24 Redding, CA Redding Civic Auditorium
25 Sacramento, CA Community Center Theatre
27 Salina, KS Stiefel Theatre
28 Des Moines, IA Civic Center
29 Cedar Rapids, IA Paramount Theater
30 Mason City, IA NIACC Performing Arts Center
31 Peoria, IL Civic Theater
NOVEMBER
1 Grand Rapids, MI Devos Hall
4 Albuquerque, NM Kiva Auditorium
5 Tulsa, OK Brady Theater
6 Houston, TX Cullen Theater
7 Dallas, TX McFarlin Auditorium
8 Baton Rouge, LA Riverside Centroplex
10 Louisville, KY Whitney Hall
11 Memphis, TN Cannon Center
12 Nashville, TN Ryman Auditorium
13 Atlanta, GA Fox Theatre
14 Chattanooga, TN Tivoli Theater
15 North Charleston, SC North Charleston Performing Arts Center
17 Jacksonville, FL Florida Theatre
18 Melbourne, FL King Center
19 Sarasota, FL Van Wezel Center
20 West Palm Beach, FL Kravis Center
21 Tampa, FL Straz Center
22 Miami, FL Arsht Center
27 St. Louis, MO Fox Theatre
28 Columbus, GA River Center
29 Durham, NC Durham Performing Arts Center
DECEMBER
1 Providence, RI VETS Auditorium
2 Wilmington, DE Grand Opera House
3 Reading, PA Reading Eagle Theater
4 Uncasville, CT Mohegan Sun
5 Baltimore, MD Meyerhoff Symphony Hall
6 Hershey, PA Hershey Theater-TWO SHOWS
8 Pittsburgh, PA Benedum Center
9 Fort Wayne, IN Embassy Theatre
10 Evansville, IN The Centre
11 Indianapolis, IN Murat Theater
12 Indianapolis, IN Murat Theater – TWO SHOWS
13 Indianapolis, IN Murat Theater – TWO SHOWS
15 Kansas City, MO Arvest Bank Theatre at The Midland
16 Detroit, MI Fox Theatre
17 Bloomington, IN Indiana University Auditorium
18 Columbus, OH Palace Theatre
19 Chicago, IL Chicago Opera House-TWO SHOWS
20 Cleveland, OH Conor Palace– TWO SHOWS
27 Mesa, AZ Mesa Arts Center
28 Costa Mesa, CA Segerstrom Concert Hall
29 San Francisco, CA Davies Hall
30 Portland, OR Keller Auditorium
31 Seattle, WA McCaw Hall
JANUARY
2 Honolulu, HI Blaisdell Concert Hall
3 Maui, HI Maui Arts and Cultural Center
Additional Dates To Be Announced
www.sncmusic.com/tour
About Marion Oliver McCaw Hall
Part of Seattle Center and home to the internationally acclaimed Seattle Opera and Pacific Northwest Ballet, McCaw Hall is a state-of-the-art performing art center and premier special event venue. Each year McCaw Hall hosts over 300 events in the Susan Brotman Auditorium, Nesholm Family Lecture Hall and an attractive range of lobby and reception spaces.
About Seattle Center
Since its beginning 50 years ago, Seattle Center has served as an arts, civic and family gathering place in the core of our region. The more than 30 cultural, educational, sports and entertainment organizations residing on the 74-acre campus, together with a broad range of public and community programs, create nearly 5,000 events attracting 12 million visitors each year. At Seattle Center, our purpose is to create exceptional events, experiences and environments that delight and inspire the human spirit to build stronger communities. Activities at the Center generate $1.15 billion in business activity and $387 million in labor income.