SYNERGIA NORTHWEST 2014 ANNOUNCES LINEUP FOR "Get Back"
SYNERGIA NORTHWEST 2014 ANNOUNCES LINEUP FOR "Get Back"
Jul 24, 2014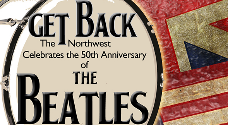 FOR IMMEDIATE RELEASE Thursday, July 24, 2014
SYNERGIA NORTHWEST 2014 ANNOUNCES LINEUP FOR
"Get Back"
Celebrating the 50th Anniversary of
The Beatles in Seattle '64
In partnership with the Seattle Center, McCaw Hall, EMP Museum and The Edgewater Hotel
Artists to include members from Heart, Foo Fighters,
The Original Kingsmen, Rangehoods and more!
SEATTLE (July 24, 2014) – "Get Back", a concert at McCaw Hall on August 23 celebrating the 50th Anniversary of The Beatles in Seattle, today announced the artists lineup for the show. This historic tribute will feature an all-star cast of emerging and iconic northwest musicians spanning generations.
Pacific Northwest singers, songwriters, musicians and bands will pay homage to the lads from Liverpool by performing the original set The Beatles performed at the 1964 Seattle Coliseum concert which will include Beatles classics like "She Loves You" and "I Want to Hold Your Hand", followed by "Sgt Pepper's Lonely Hearts Club Band" performed in its entirety with special guest musicians and singers paying tribute to the iconic album. The Sgt. Pepper's performance will be backed by the 50 piece Synergia Northwest Orchestra.
In addition, a very special Northwest premiere of Sir Paul McCartney's classical composition, "Celebration" from his second full-length release of original classical music "Standing Stone" will be performed by the Synergia Northwest Orchestra.
"Get Back" includes performances by:
Kris Orlowski
Jeff Angell (Walking Papers)
Tracy Bonham
The Rangehoods
Ben Smith (Heart) and Nate Mendel (Foo Fighters) with special guests
The Kingsmen's Barry Curtis and Friends
Shawn Smith
Tennis Pro
Justin S. Davis (Star Anna – Strong Suit)
Gary Westlake
Chris Friel (Goodness – The Rockfords)
Spike and the Imaplers Horns
The Funky 2 Death Horns
Choklate Moore
Michael McMorrow
Marc Willet
Tor Dietrichson (Global Village – Diga Rhythm Band)
Caspian Coberly
The 2014 Synergia Northwest Orchestra Conducted by Dr. Bret Smith
With more special guests to be announced
Hosted by Pat O'Day and Marco Collins
In addition to having selected Northwest music students playing with Synergia Northwest Orchestra, proceeds from the "Get Back" will benefit Pacific Northwest youth music organizations for the cause of preserving and safeguarding the Northwest's rich musical legacy. The concert will be streamed by The Melodic Caring Project, an organization that combines music and technology to stream live concerts to hospitalized kids and teens.
The 2014 Youth Music Beneficiaries are: Northwest Choirs, Seattle Music Partners, Washington Music Educators Association (Young Musicians Excelling), Music Matters through Music Aid Northwest, Vera Project, Seattle Youth Symphony Orchestra, and Music Works Northwest.
The Pacific Northwest will mark the historic anniversary of The Beatles' 1964 appearance in Seattle at Seattle Center in McCaw Hall, 50 years after the Fab Four embedded themselves into the Northwest's musical culture and Beatlemania swept the nation. "Get Back" will be hosted by iconic disc jockey Pat O'Day, who introduced The Beatles on stage at the Seattle Center Coliseum's first ever concert - 50 years ago - on August 21, 1964 along with special guest Marco Collins, the influential northwest DJ credited with breaking bands like Nirvana and Pearl Jam. Both disc jockeys are in the Rock and Roll Hall of Fame.
Tickets start at $36.50 and can be purchased at the KeyArena Box Office, Ticketmaster outlets, Ticketmaster.com, charge by phone toll free at (800) 745-3000 or TDD 800-943-4327. All tickets subject to applicable service charges and fees.
For more information and breaking news visit www.synergianorthwest.com
Twitter@synergianw, Facebook @SynergiaNorthwest and Instagram@Synergia-Northwest
"Get Back" The 50th Anniversary of The Beatles in Seattle
#sea_btl50 #seattlelovesthebeatles #thebeatles
###
Synergia Northwest
Celebrating its 5th anniversary, Synergia Northwest blends classical, contemporary, professional and student musicians into one evening of performances that unifies cultures and musical genres. The caliber of these artists, along with a world-class conductor and orchestra has produced evenings of unforgettable musical moments that have left audiences knowing they've just experienced a magical event. Visit www.synergianorthwest.com
About Marion Oliver McCaw Hall
Part of Seattle Center and home to the internationally acclaimed Seattle Opera and Pacific Northwest Ballet, McCaw Hall is a state-of-the-art performing art center and premier special event venue. Each year McCaw Hall hosts over 300 events in the Susan Brotman Auditorium, Nesholm Family Lecture Hall and an attractive range of lobby and reception spaces.
About Seattle Center
Since its beginning 50 years ago, Seattle Center has served as an arts, civic and family gathering place in the core of our region. The more than 30 cultural, educational, sports and entertainment organizations residing on the 74-acre campus, together with a broad range of public and community programs, create nearly 5,000 events attracting 12 million visitors each year. At Seattle Center, our purpose is to create exceptional events, experiences and environments that delight and inspire the human spirit to build stronger communities. Activities at the Center generate $1.15 billion in business activity and $387 million in labor income.