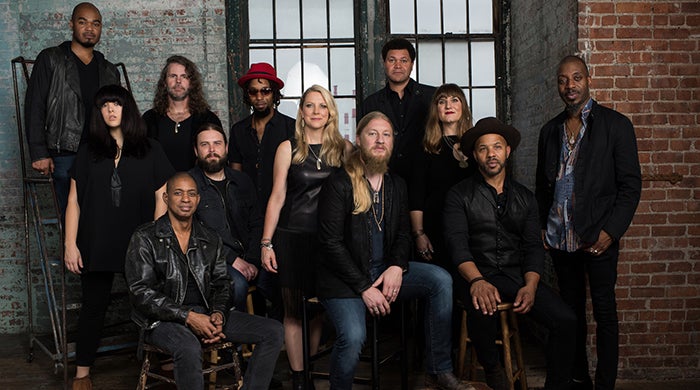 TEDESCHI TRUCKS BAND RETURN TO MCCAW HALL SEPTEMBER 14
TEDESCHI TRUCKS BAND RETURN TO MCCAW HALL SEPTEMBER 14
Apr 18, 2016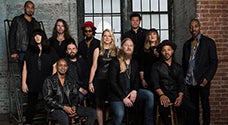 Who: Tedeschi Trucks Band
with special guests Nicki Bluhm & The Gramblers
Where: Marion Oliver McCaw Hall
When: September 14, 2016
Tickets: Tickets can be purchased starting Friday, April 22 at 10:00 am at the Box Office located on the west plaza of KeyArena, Ticketmaster outlets, Ticketmaster.com, or charge by phone toll free at (800) 745-3000. All tickets subject to applicable service charges and fees.
What: Tedeschi Trucks Band return to Seattle at McCaw Hall in September with support acts Nicki Bluhm & The Gramblers.
Formed in 2010 with a spirit of adventure that saw Susan Tedeschi and Derek Trucks shelve their equally successful solo careers, Tedeschi Trucks Band, a 12-piece tour-de-force, has quickly become the vanguard of modern roots music. Driven by Trucks, #16 of the top 100 Guitarists of All Time (Rolling Stone), and Tedeschi, blessed with a voice that passionately delivers a range of powerful R&B belters to gentle ballads, the group enlists dual drummers, two vocalists, a three-piece horn section, bass, and a multi-instrumentalist keyboard player for what is a greater-than-the-sum-of-its-parts collective. "A deeply skilled groove machine," (Los Angeles Times) that displays "a peerless brand of musical alchemy as easily cool and consoling as white hot and ascendant." (Relix) Tedeschi Trucks Band debuted big with its Grammy Award-winning Revelator, 2012's dynamic live follow up,Everybody's Talkin', and 2013's critically-acclaimed Made Up Mind bolstering the Jacksonville-based group's growing reputation as the preeminent blues-rock leader. With guitarist Derek Trucks' departure from The Allman Brothers Band final at the end of 2014, the band has fully dedicated itself to expanding its legendary live performances and finished their fourth studio album Let Me Get By earlier this year.
Let Me Get By was recorded at Swamp Raga Studios, the band's home studio in Jacksonville, Florida, the album is an absorbing, self-assured, artistic leap forward. Playing with an economy of power and uncommon grace, the 12-piece outfit—one of the most deeply skilled and admired musical ensembles in the world—explores themes of independence, love and release.
Tedeschi Trucks Band
Driven by Susan Tedeschi's impassioned, blues-soaked vocals and Derek Trucks' virtuoso guitar, Tedeschi Trucks Band is an 11-member, American roots-rock tour-de-force. With a growing worldwide reputation for legendary live performances the Grammy-winning group have proven themselves as the preeminent leader in modern blues rock. TTB's third studio album (behind Revelator-2011 and Made Up Mind-2013) is slated for release in January, 2016.
About Marion Oliver McCaw Hall
Part of Seattle Center and home to the internationally acclaimed Seattle Opera and Pacific Northwest Ballet, McCaw Hall is a state-of-the-art performing art center and premier special event venue. Each year McCaw Hall hosts over 300 events in the Susan Brotman Auditorium, Nesholm Family Lecture Hall and an attractive range of lobby and reception spaces.
About Seattle Center
Since its beginning 50 years ago, Seattle Center has served as an arts, civic and family gathering place in the core of our region. The more than 30 cultural, educational, sports and entertainment organizations residing on the 74-acre campus, together with a broad range of public and community programs, create nearly 5,000 events attracting 12 million visitors each year. At Seattle Center, our purpose is to create exceptional events, experiences and environments that delight and inspire the human spirit to build stronger communities. Activities at the Center generate $1.15 billion in business activity and $387 million in labor income.