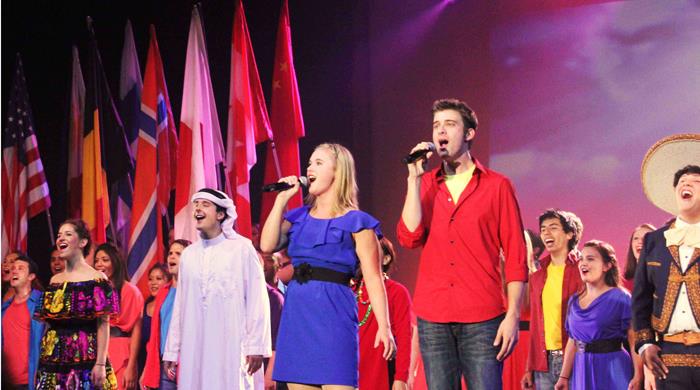 UP WITH PEOPLE COMING TO MCCAW HALL SEPTEMBER 29
UP WITH PEOPLE COMING TO MCCAW HALL SEPTEMBER 29
Aug 8, 2013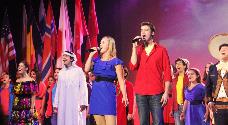 FOR IMMEDIATE RELEASE Thursday, August 08, 2013
Who: Up with People
Where: Marion Oliver McCaw Hall
When: September 29, 2013
Tickets: Tickets go on sale Friday, August 9, 10:00 am and can be purchased at the KeyArena Box Office, Ticketmaster outlets, Ticketmaster.com, or charge by phone toll free at (800) 745-3000. All tickets subject to applicable service charges and fees.
What: The multinational cast of Up with People is headed to Seattle. Up with People (UWP), which has toured to 38 countries around the world during the last 47-years, has announced that the Greater Seattle area will be a stop on their 2013 tour. On Sunday, September 29th at 6pm Up with People will perform a public show at McCaw Hall in Seattle, Washington. The proceeds from show ticket sales will benefit local organizations partnered with your Northwest Area Rotaries.
Best known for their high-energy, upbeat, family-friendly entertainment, the cast of 100 participants representing 20 countries is participating in UWP's international global education program for young adults. For over 45 years, the casts of Up with People have toured the globe performing for millions, including an unprecedented four Super Bowl halftime shows. On January 1, 2011, Up with People produced and performed, for the second time in three years, during the opening celebration of the Pasadena Tournament of Roses' Rose Parade which was estimated to have been seen by a television audience of more than 50 million.
Long before Glee, American Idol and High School Musical, Up with People created the genre of high- energy entertainment performed by an ensemble of talented young people from around the world. The show is an international collaboration of music, dance and genuine energy with a message of hope and goodwill across nations. This electrifying stage show will move your feet, stir your soul and touch your heart.
Voices, UWP's latest production, is a performance featuring both original and popular music and is a dynamic blend of feature soloists, full cast production numbers, fast-moving choreography and colorful costumes. Voices is inspired and motivated by recent worldwide events and features medleys of popular music, international music and of course, Up with People original music. The aim is to leave the audience feeling empowered to connect, communicate and create positive change in their communities; to '...rise above the noises, and listen to the voices of the world.'
While in Seattle between September 23-30, Up with People will spend time participating in service projects and live with local host families. Beginning in August Up with People will be recruiting families to host international cast members during their stay in the Greater Seattle area. The sharing goes both ways…while families share their traditions and local attractions; the cast members share their experiences and cultures. By the end of their five-month world tour, the cast will visit dozens of communities throughout the United States, Asia and Mexico.
Up with People's visit to Seattle is sponsored by your Northwest Area Rotaries. Local organizations partnered with these Rotaries will benefit from the show.
Up with People is continuously seeking young leaders who are ready for this unique and life-changing experience. Everyone knows someone who is perfect for Up with People... who do you know? Is it you? A neighbor? A friend? Learn how you or someone you know can travel the world, earn college credit and make a difference in Up with People by visiting www.upwithpeople.org or calling 907.687.5885.
About Up with People
Up with People is an independent nonprofit, [501(c)(3)] organization without any religious or political affiliations. It provides young adults an international and intercultural experience that teaches service leadership and uses the performing arts to deliver messages of hope and goodwill throughout the world. Up with People exists today to spark people to action in meeting the needs of their communities, countries and the world while building bridges of understanding as a foundation for world peace. For more information visit www.upwithpeople.org.
About Marion Oliver McCaw Hall
Part of Seattle Center and home to the internationally acclaimed Seattle Opera and Pacific Northwest Ballet, McCaw Hall is a state-of-the-art performing art center and premier special event venue. Each year McCaw Hall hosts over 300 events in the Susan Brotman Auditorium, Nesholm Family Lecture Hall and an attractive range of lobby and reception spaces.
About Seattle Center
Since its beginning 50 years ago, Seattle Center has served as an arts, civic and family gathering place in the core of our region. The more than 30 cultural, educational, sports and entertainment organizations residing on the 74-acre campus, together with a broad range of public and community programs, create nearly 5,000 events attracting 12 million visitors each year. At Seattle Center, our purpose is to create exceptional events, experiences and environments that delight and inspire the human spirit to build stronger communities. Activities at the Center generate $1.15 billion in business activity and $387 million in labor income.